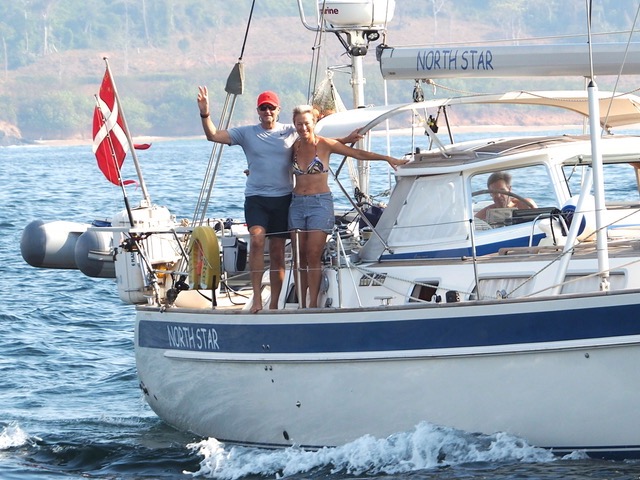 We have arrived to Galapagos after 6 days and 14 hours journey, where we were blessed by being whales, dolphins, Boobies with red feet, manta rays and probably more. But we did only catch one very small tuna – I need to work on my fishing skills!
We arrived into St. Christobal late in the evening, around 2200 and sailed very slowly into the big bay among the tour boats and a few other yachties and hang on to the bottom on just our anchor together with Greyhound. It was a fantastic feeling to have done the first part of this massive ocean. %2 engine hours in the beginning and else we were cursing along on 60 degrees to the wind at 7-8 knots – rather fantastic to feel North Star at her best.
We did only have one breakdown with the alternator, which is now ordered in USA and it will over the next weeks find its way to Maimi and on to Equador and further on the Santa Cruz Galapagos! So when, we do not know, but we are not leaving without it…
We have toured Christobal and seen turtles, sealions, Frigate birds and we have dived at Kickers Rock with sharks, sea turtles and reef fish. Everything is bigger here and the current makes it demanding, but we are getting the hang of it and enjoy big time. You feel that the islands have a big place in human discovery history.
The internet here is not worth speaking of so pictures will have to wait, until upload times are better. The only technical improvement we have made is our investment in Iridium GO with predict wind, and we have not have reliable internet on board and we can communicate easily – a big change and just in time for the Pacifico.
More to come in writing as we explore the islands over the next weeks.