Lagos is a wonderful, well-protected harbour with lots of room and water to at least a draft of 3 meter. But try to arrive and enter at half tide going in – it will provide you with a bit more wiggle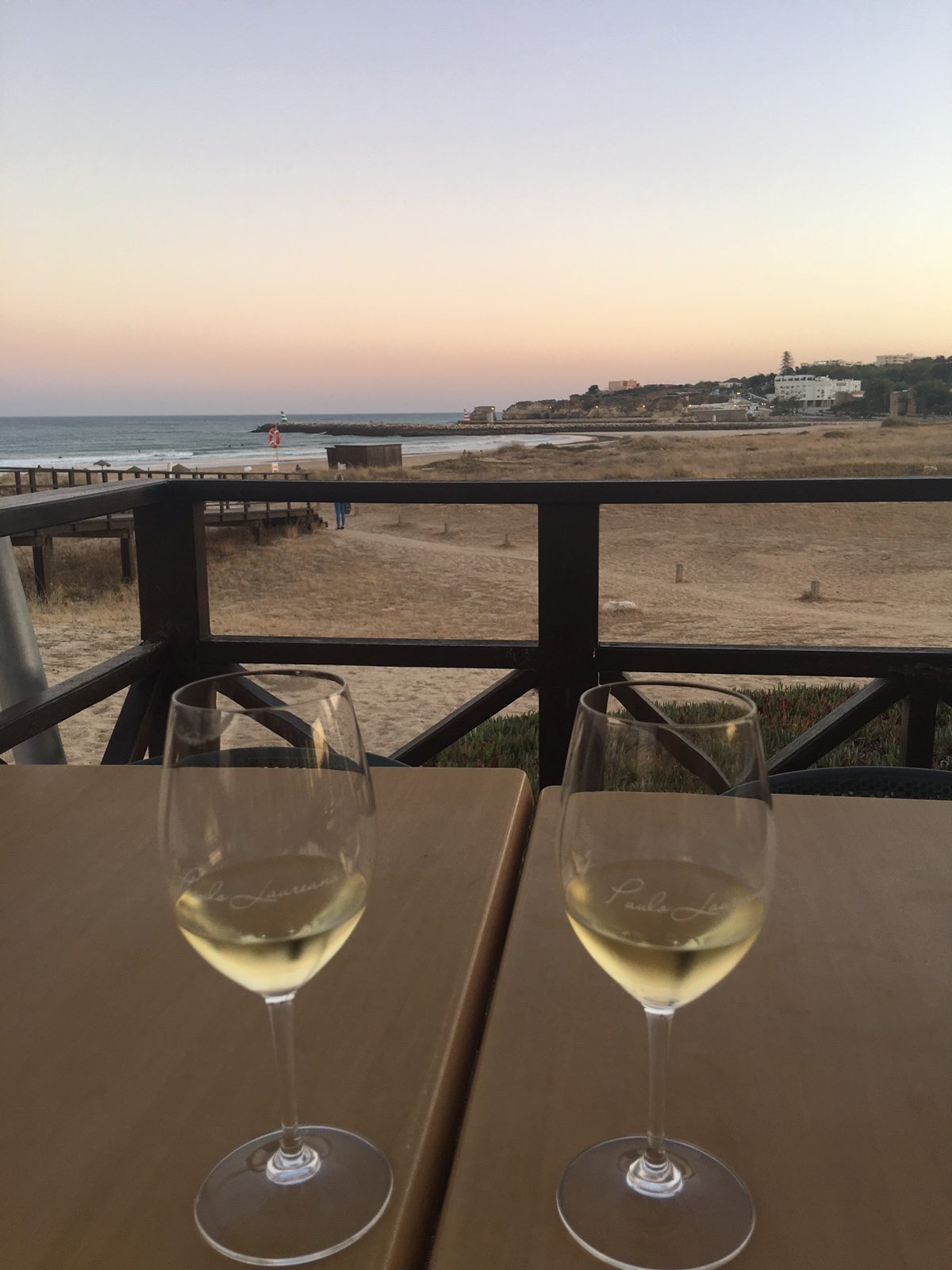 room. You need to pass through a long channel and a bridge before you are in the marina. There are lots of restaurants in the area, as well as one of the best chancelleries and boat yards in this part of the world. For this reason, many cruisers spend the winter here and never leave.
The town is beautiful and dates back to the Romans with small streets, restaurants and shops – but overall it is a very touristic scene with the English charter market dominating. Of restaurants, we can recommend Camil and Sao Roque both for their views and their fish, which is better than the already great fish, one can enjoy here in Portugal. Lagos is also a really great harbour to leave your boat for as long as you need – and that we did.
We went to Athens for work and pleasure. The stories about the Greek situation seems far away, when you visit this wonderful city. We arrived on the 20th of September, just in time for celebrating Marie's birthday. We worked and took time off to enjoy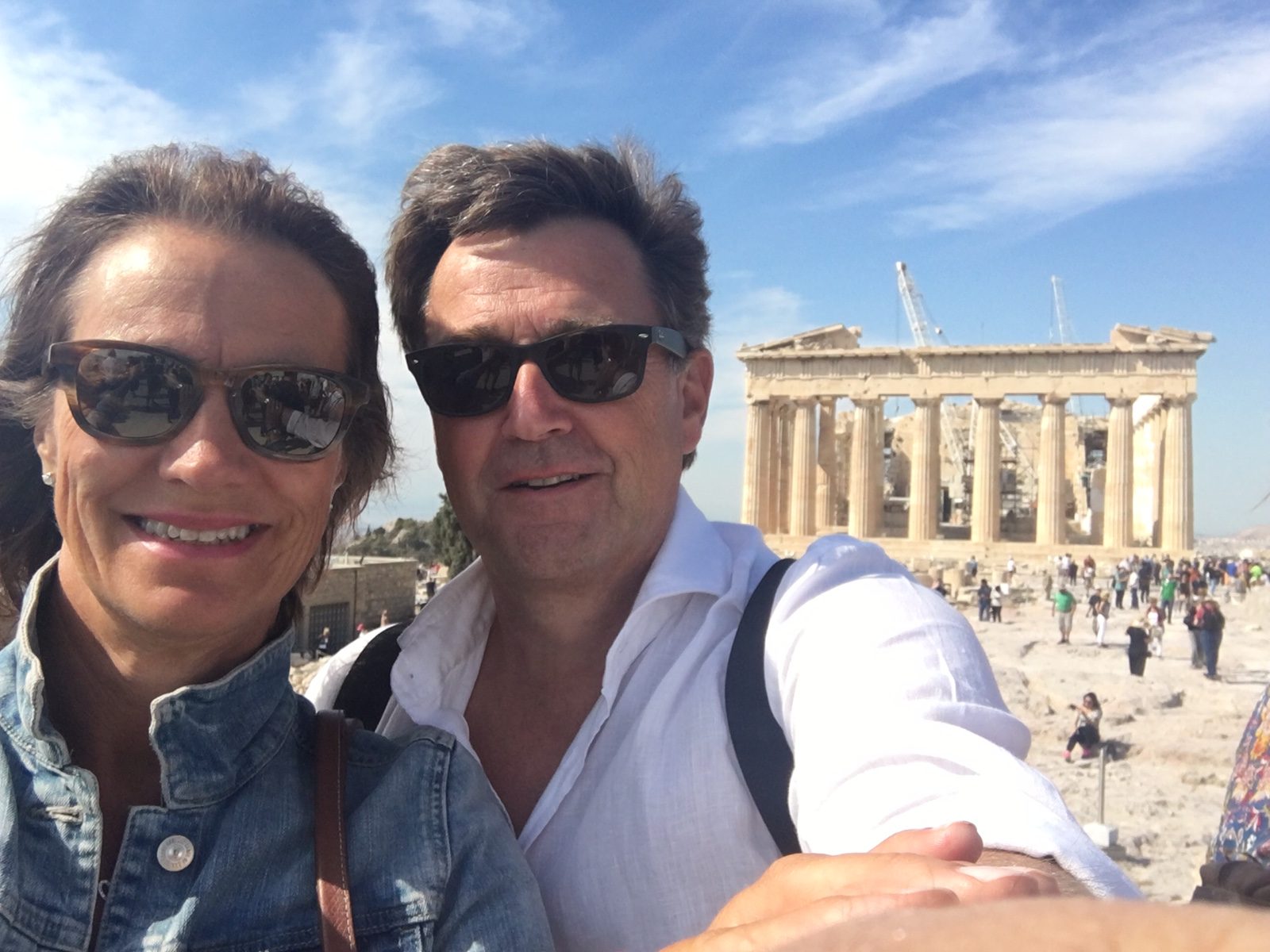 San Torini, the old quarters in Athens and of course Acropolis. I am always taken by the greatness of the past in Greece and ask myself the question – what happened, what fortune changed all of the ancient greatness into modern Greece?
Soon back to Lagos, realizing the beauty of flying across Europe – it was time to say goodbye to Martinho and Ingrid, who own and run the marina.
From here we sailed to Vilamoura, another great marina and wonderful city. There is a fine little fish restaurant behind the marina office, which is a must to visit, called Tasquinho O'Manel. Vilamoura won our hearts and we intend to return. Lots of activities, great supermarkets, nice and secure marina, and great beaches near the marina and the old Quartiers. But we had to leave after already having extended
with another day. But soon very soon, we will be in the Med – another dream will come true, passing the Gibraltar Rock under our own keel.
We left Vilamoura behind setting a course for Ilha da Culatra, which is an island in the Faro Delta, where time stopped thirty years ago. Life is slow and pleasant with a ferry twice a day to Faro, bringing both the occasional tourist and opportunity for commuting to work. It seems to be a nice life without many of the challenges we create for ourselves, but also some of the fun. We slept quietly on anchor in the bay and left early in the morning with the first light, together with the fishermen.
Our course was set towards Cadiz and we had a wonderful 70 nm sail, which took us into the public marina in Cadiz with the last light. A spectacular entrance with old city walls and watch towers. We moored in a terrible marine outside the city, but with our bikes it was not a problem at all and the beauty and historic significance of Cadiz, overshadowed the inconvenience of the marina. In short, we really loved Cadiz with its narrow streets, fortresses, restaurants and very friendly people. We spent a wonderful day touring on our bikes and saw it all. What would we do without our bikes?! The adventure radius increases and the legs feel much better in the evening. We used Lonely Planet and it took us around in Cadiz, but there were also marked walking paths in different colors, which were a hit – thanks to the tourist office, which Marie visited first, as usual.
A little disturbance in the flawless weather we had enjoyed for weeks was expected on Wednesday and Thursday, so we took off on Tuesday for Gibraltar. It was an exciting sail because we had to sail into the Med, where The Atlantic and The Med meet. At some point we were cruising with the tide at 13.5 knots, the fastest we have sailed with North Star and it became our fastest passage since we left Scandinavian in June 2016.
It is a special feeling to enter a British outpost and enter the Med. It felt like a moment worth celebrating, so we chilled the champagne, but we were so exhausted that it stayed there.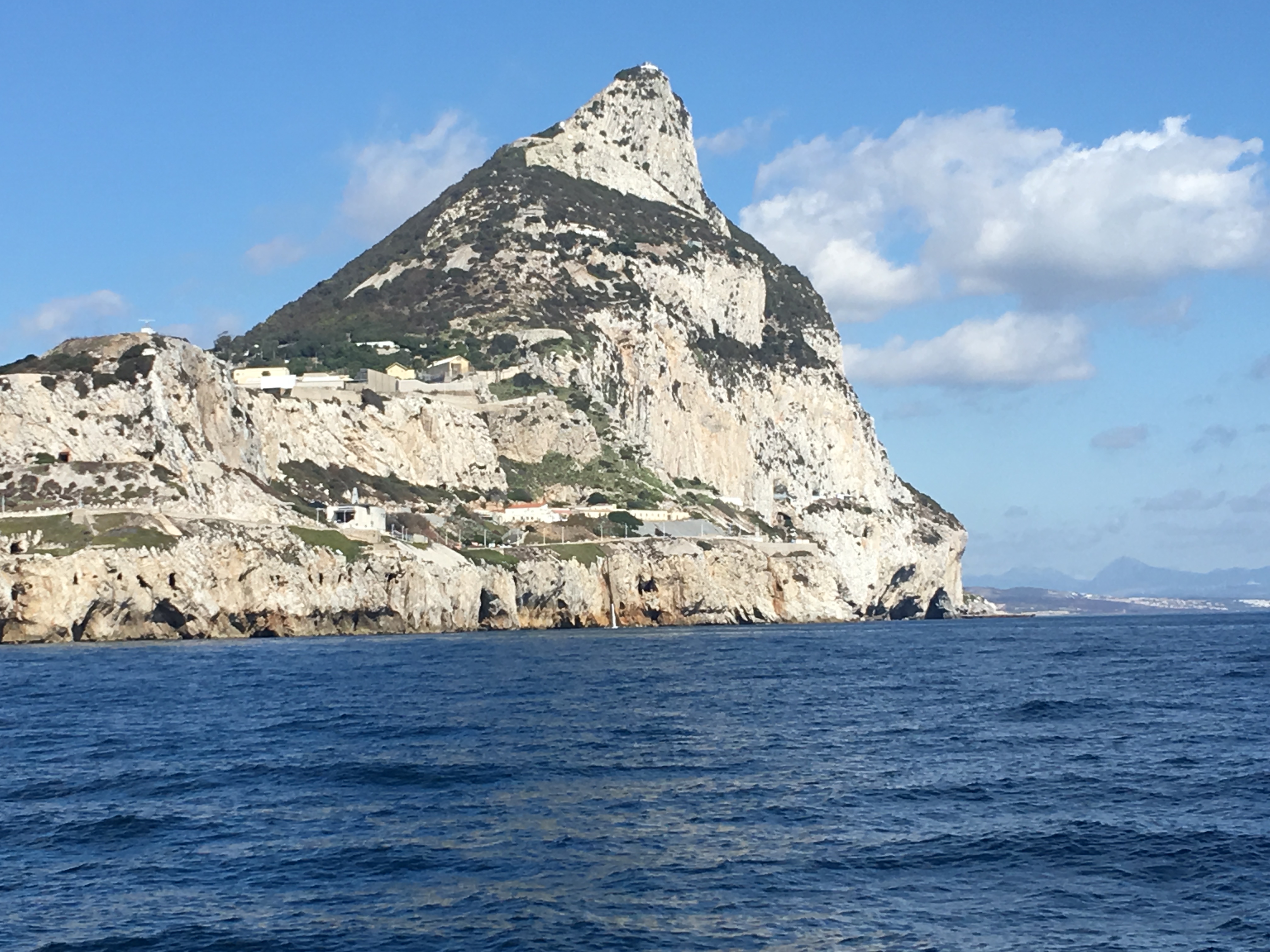 We spent a couple of days in Gibraltar arriving on the 11th of October and left on the 14th, after a visit from home. Kristian which sailed with us for a couple of weeks up north and his girlfriend Josefine, spent a night. But on the 14th in bright sunshine and the wind on the aft starboard quarter, we rounded the Rock and sailed into the Med – it was a wonderful feeling.
O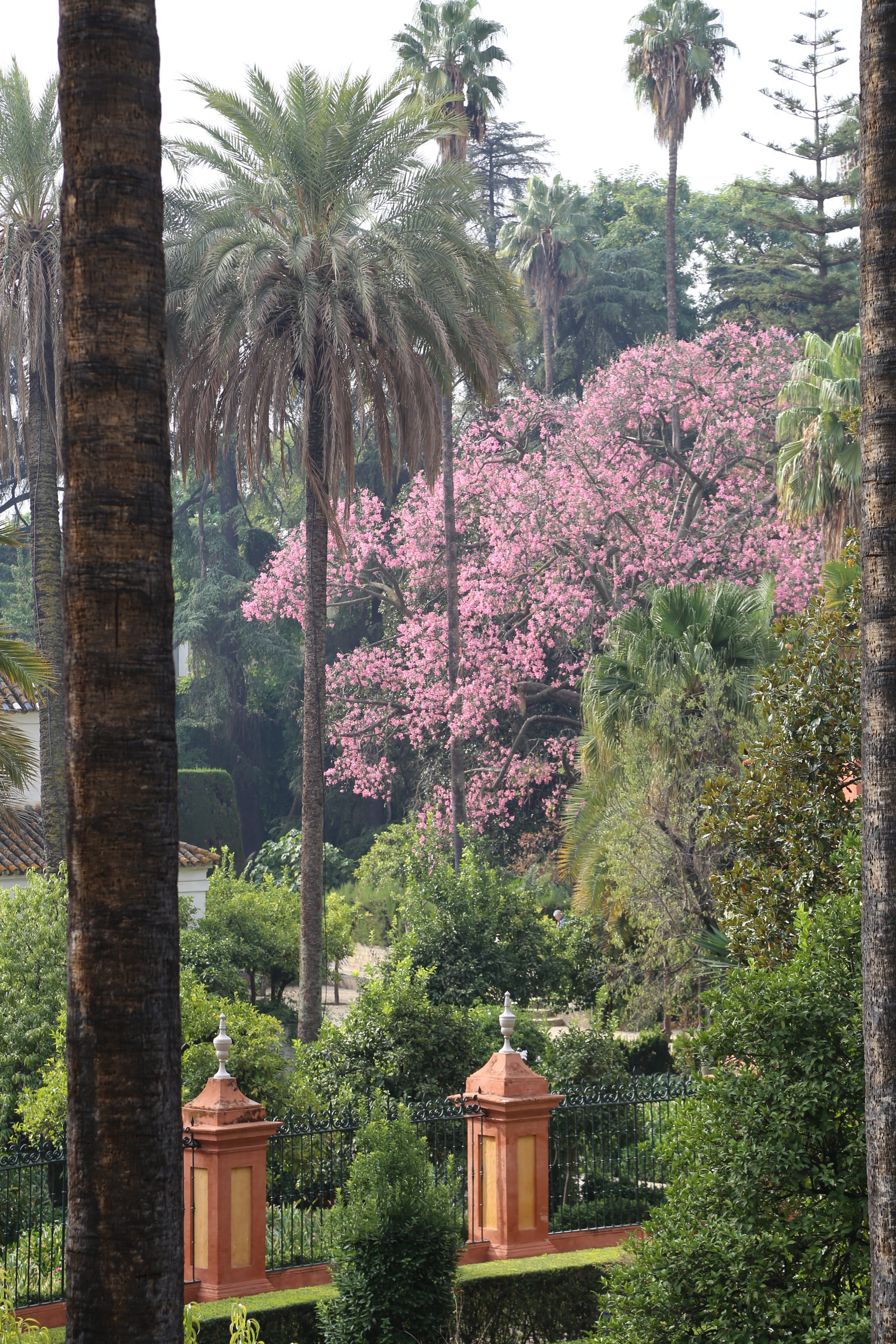 ur first stop was after a 30 nm sail to Marbella, to meet friends and find a town we visited ten years ago. Nice marina, but with limited space for our size and a somewhat shallow depth. Again we did not find the really big boats, but were told that they were in Puerto Banus 8 miles before Marbella. The harbor master is friendly and flexible, and we enjoyed our stay. We visited Sevilla and Ronda in a rented car from costasbiler.dk, which were very helpful and service minded. The drive into the Sierra Nevadas to Seville is easier from Cadiz. But still it only took us less than 3 hours, via the beautiful mountain roads and we were rewarded with a visit to one of the most beautiful cities we have seen, since we left home. We stayed overnight in a nice little three-star hotel near the Cathedral, which provided parking and great rooms and service.
We visited the Cathedral, the old town, Alcatar the palace, and a few old mansions and art exhibitions. We also had Tapas again, and the best so far. The bar is named El Pasaje and we had tapas in the bar, but they also have a restaurant next door. Same kitchen, different pricing.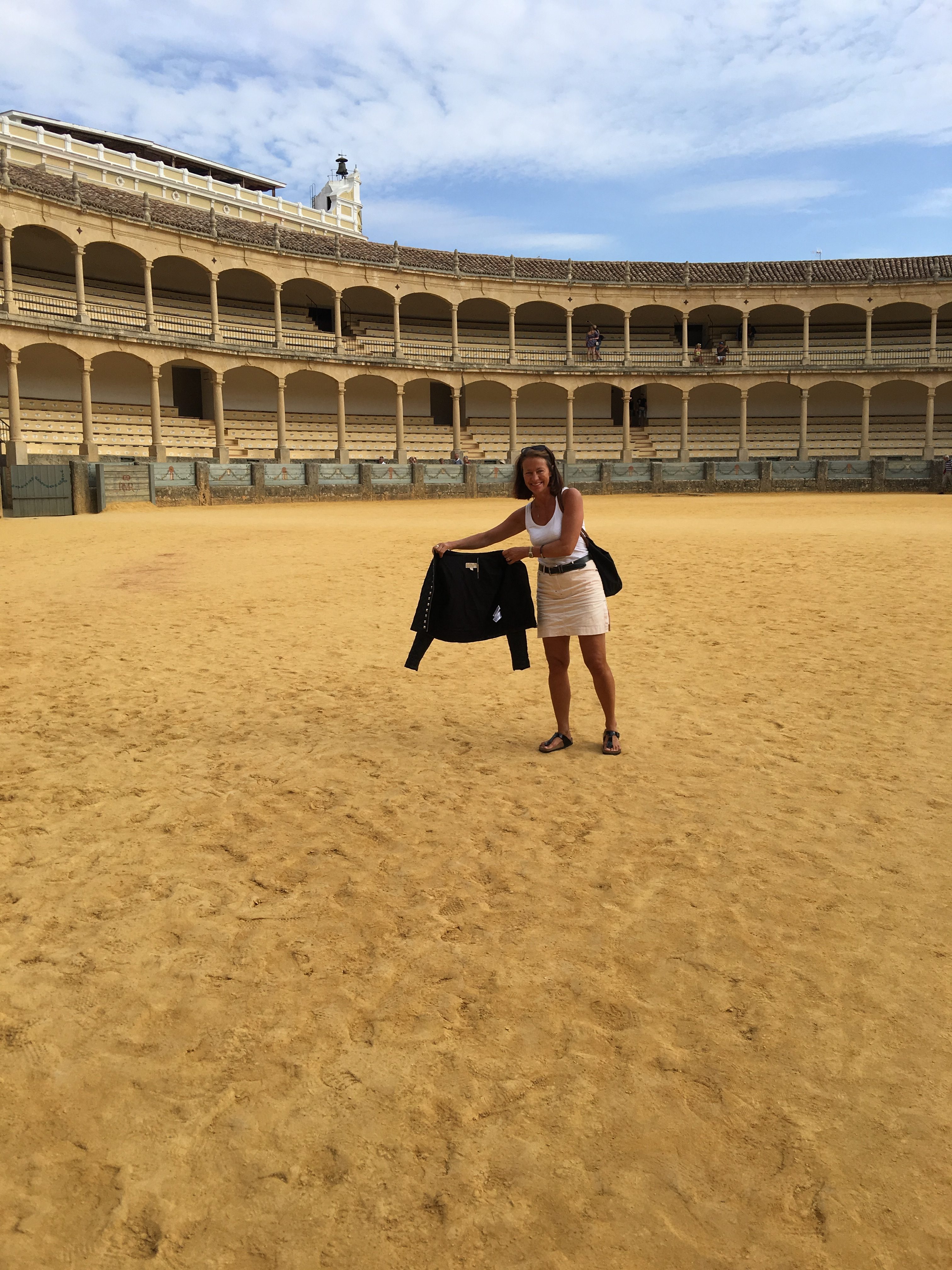 We left at lunch time to reach Ronda, a Mauri town build on top of a cliff in the middle of the mountains with the oldest bull fighting arena, at least in Spain.
It is one of these places which Orson Welles and Hemingway among others have made famous – but be aware of the tourist buses…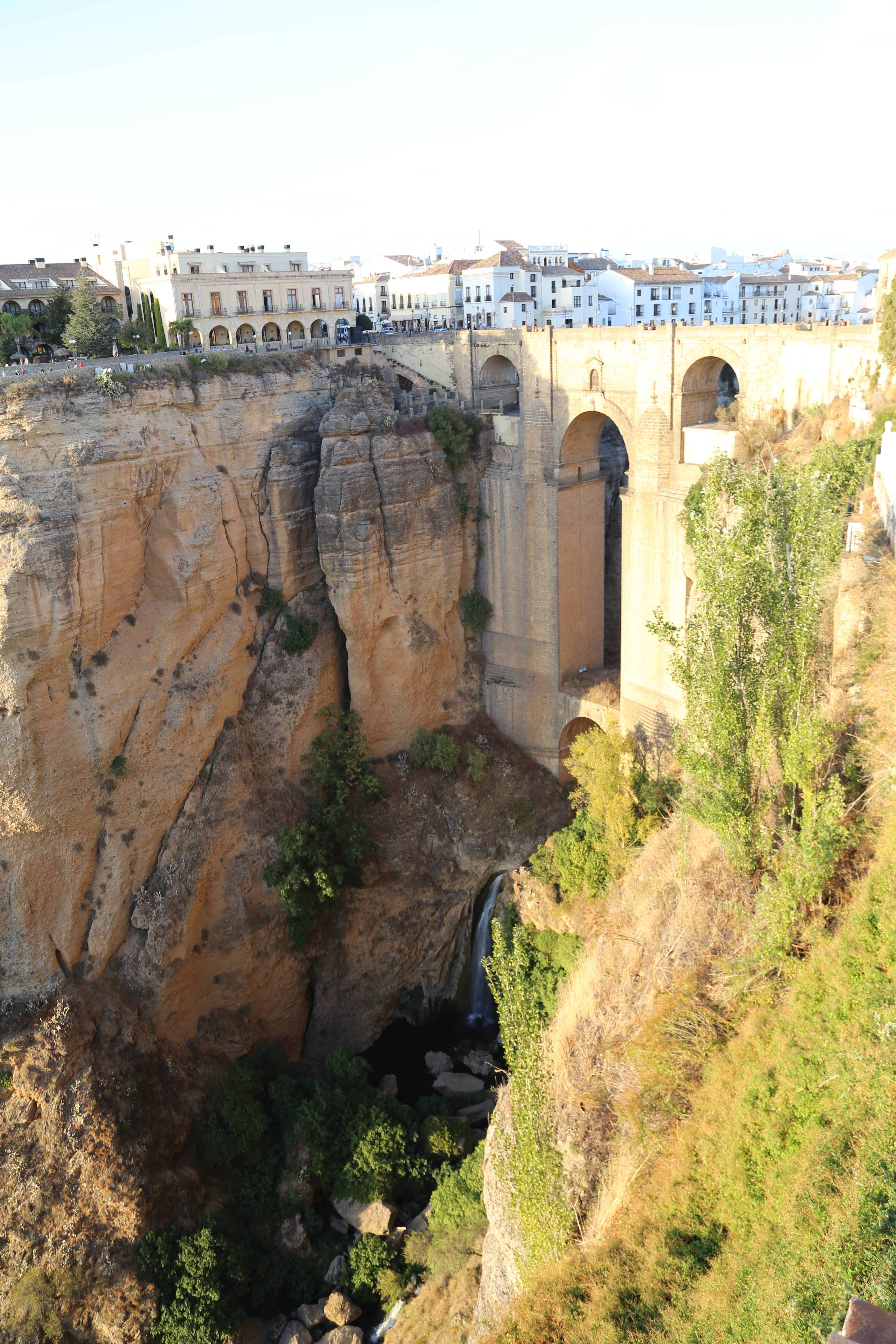 We left Marbella to reach Marina del Este on the 18th of October, a 60 nm run on engine. It seems that the wind has disappeared completely for a couple of weeks or at least as long as we can read the forecast. We are grateful for our engine, but it is boring.
We did not have any expectation for this next stop, but it is a great little marine. Charming and friendly, but nasty in bad weather from other directions than N and E. We had no wind and a wonderful stay – reminding us of the Nordic Archipelago harbour's. We were also taken care of by friends from Denmark, which showed us the area and took us into their homes. Fantastic hospitality and we enjoyed it. It seems that this small jewel, is where a number of our friends have decided they want to spend their spare time in the sun and in beautiful surrounding – and outside the reach of the tourist hordes. We stayed until the 20th and left early for an anchorage 65 nm east around the corner from Capo de Geta. A long day on engine, but we spend time writing, reading and preparing – so not too bad. The weather is still very nice and warm, so we keep working on the tan!
We left early morning for a beautiful anchorage just after Capo De Gato and arrived in the dark following the coast guard chasing illegal fishing boats.
The following day we reached for Cartagena, where friends would come from Denmark to visit. Cartagena is a great town, large but not to large and well worth a visit to see the Roman and Turkish influence. It is a very well protected Harbor but in southerly winds it becomes uneasy. We were into both marinas and choose the one at starboard, being slightly more quiet and modern. A great restaurant, La Catedral, need to book – next to the Roman Theatre.
From here we wanted to go to Santa Pola and left in brisk conditions on the 25th. Mid-afternoon the wind died and the nearest harbor was Torrevieja, which is spoken badly about on noonesite.com (A visit in 2012), so our expectations were not high. But more often than not, we have been pleasantly surprised. Torrevieja is a wonderful large marina – one on port and one on starboard. We choose the new marina on SB, which is swell free. Rodney, who is the business manager, is great and super customer-focused, the marina is fantastic and its surroundings can deliver all services to a yacht.
We ended up leaving North Star in Torrevieja for the winter, well-covered and maintained so she hopefully is ready for our next season.