The bug was itching, so on the 12th of August we had to move on to the Galician Rias of northern Spain and they were just around the corner, behind Cap Finisterre and further down. We left in a brisk breeze and were hoping that it would last to Camarinas a short 30nm sail down the coast. But unfortunately, the high pressure took away all wind and we motored. Arriving late just before dark and in a lot of fog, we let the anchor out in the bay near Barolo and enjoyed the small mountains hidden in the fog and called it an early day. Carmarinas has a very well-protected bay and is a small sleepy fishing town with a few tourists.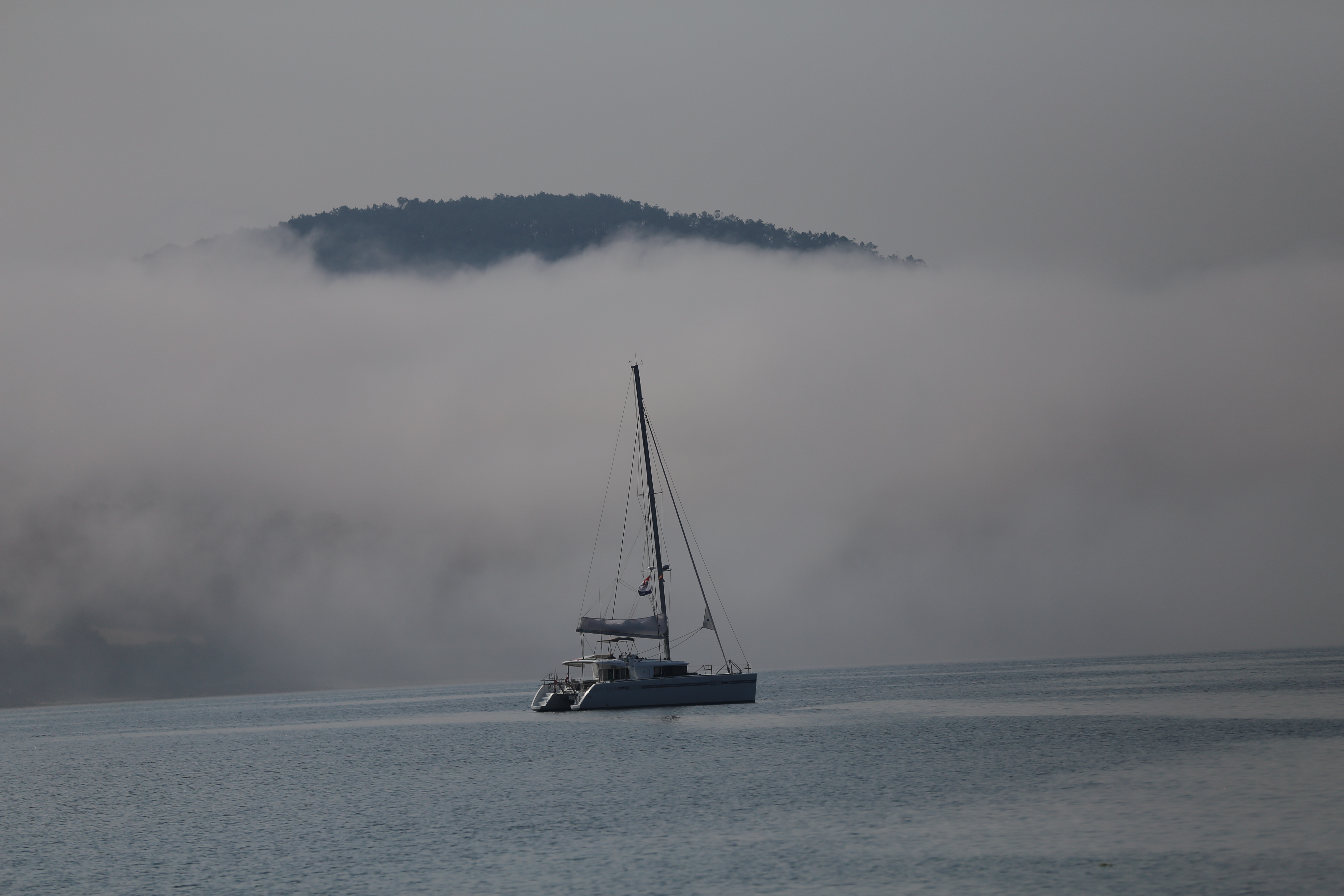 On the 14.8, we finally arrived late afternoon to the famous Galician Rias after travelling close to 2000 nm since Copenhagen. We left Camarinas late morning in mist and light winds and sailed out hopeful about a nice windy sailing day. And it came and went after we used the code-0 for about 30 min. Then we motored in heavy fog right past the famous Cap Finisterre, which we did not see… a highlight which came and went. Further down we passed this treacherous point, which has taken so many ships in another time, before it all became easy with GPS, AIS and Radar.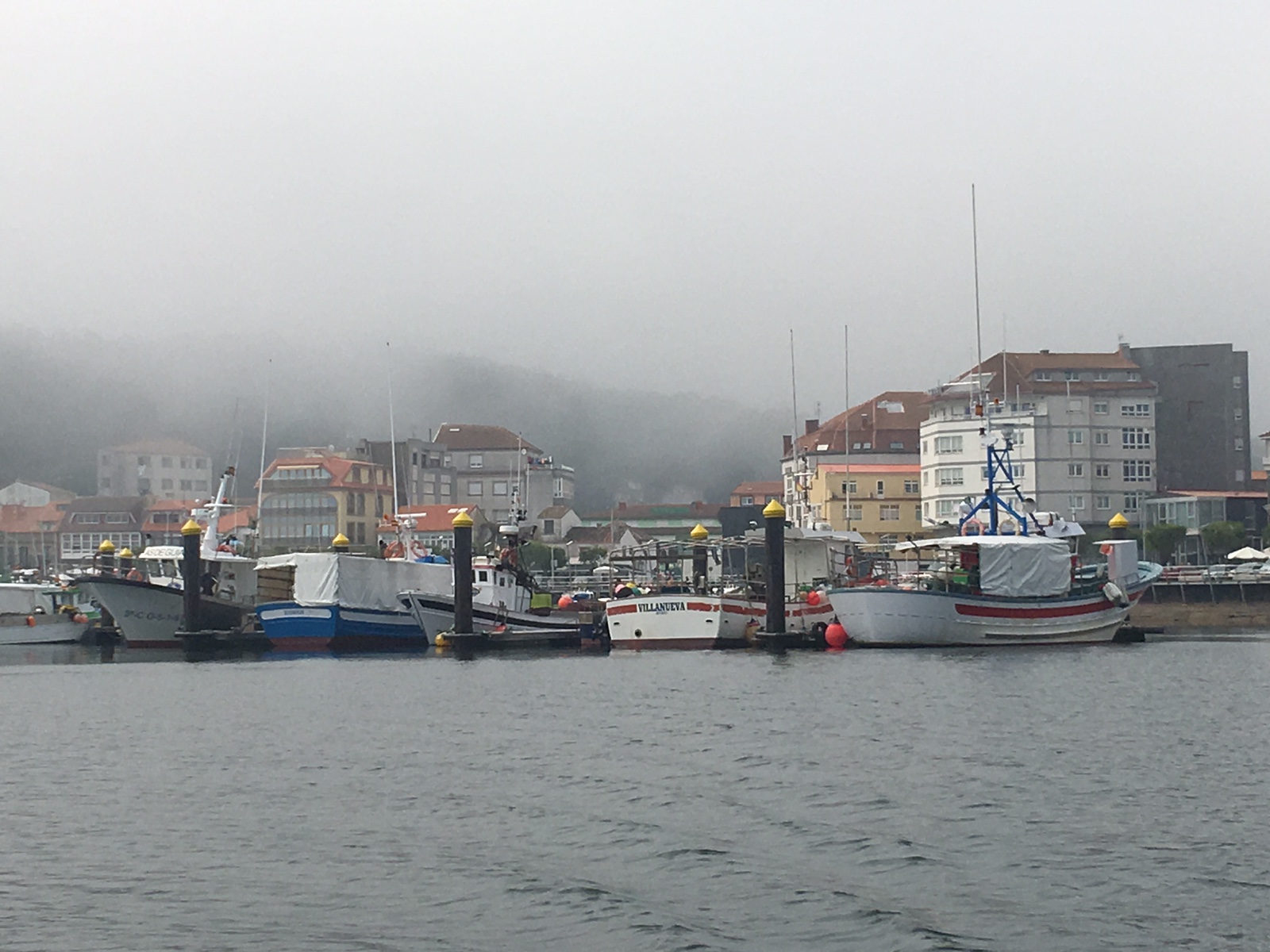 We had decided to go into the Ria de Arousa, which is supposed to be the most beautiful and we anchored up in the bay of Rebeira, right outside the sailing club and finally the sky cleared, the fog was gone and it became a nice evening. Water was still cold either 14 or 17 degrees – discussion between Barolo, Margrethe and North Star. But North Star decided it was 18 and we started to swim in the morning and evenings. It was very refreshing – afterwards.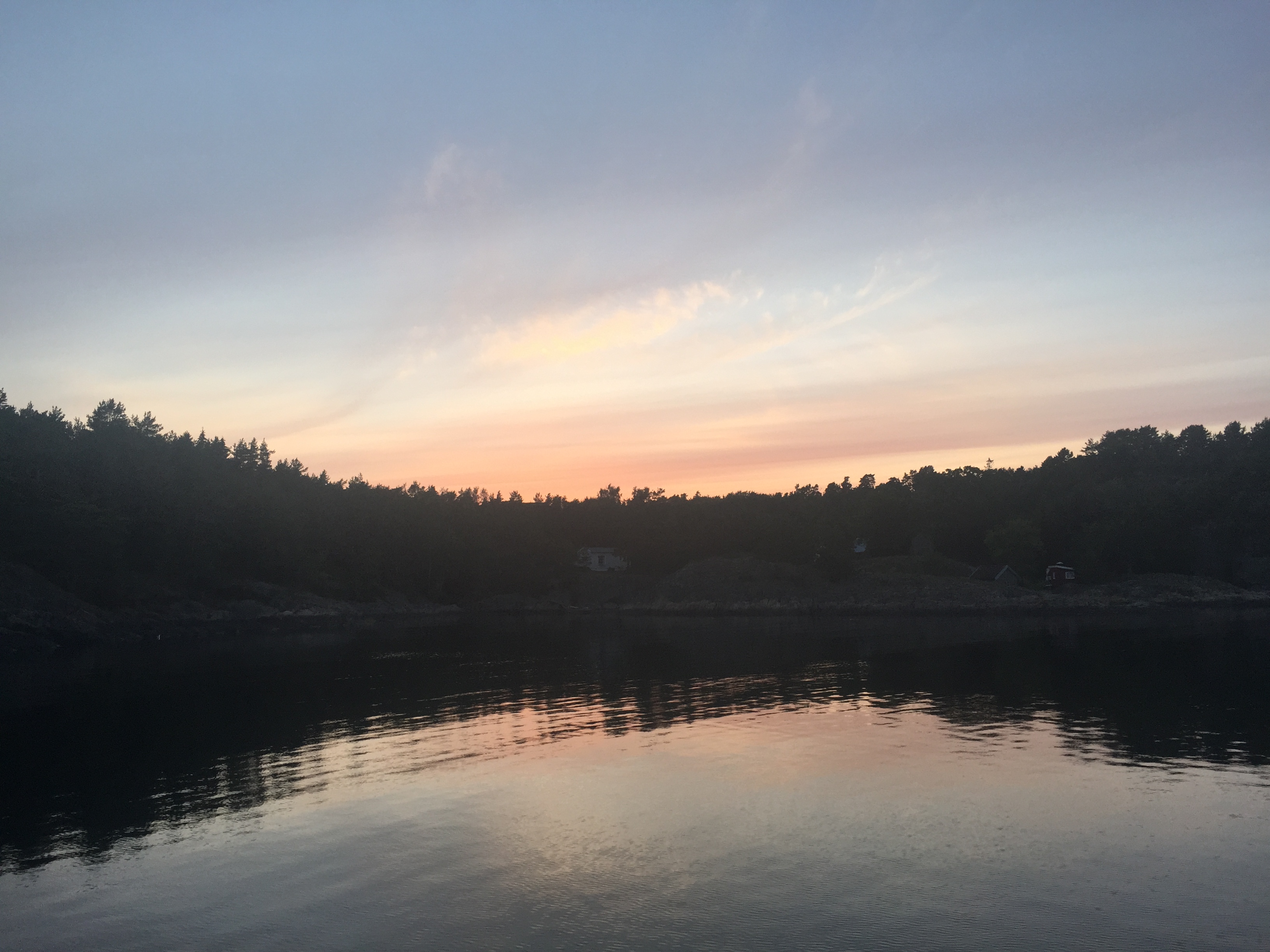 On the 16th, the fog cleared again around noon and we sailed across the bay to Vila Nova. A small fishermen's harbour, with a very helpful harbourmaster. Free wine at check in. The sun came out, and Michaela and Marie prepared a great day for us. Wine tasting at Martin Codax and later a visit to Cambados. We saw the wonderful little 16 century church, a tour around town in a 'tuff tuff' train and dinner at a great recommendation from the wine castle. The crews from Barolo, Margrethe and North Star were very complementary to the Admiral and deck hand.
Departure on the 17th, from Vila Nova to Isle de Cies with a departure around 12 when the fog cleared and nature prepared a wonderful sunny afternoon and a great sail down to one of the highlights of Galicia – the islands outside the coast. We had chosen Isle de Cies on Barolos recommendation and just after we left Vila Nova, we received the necessary cruising permit and were able to apply for an anchor permit, which is given immediately via the internet. (http://www.iatlanticas.es/) So with all paperwork in place, we sailed through the beautiful surroundings, which is much like the Swedish Archipelago. Arriving around 18, we dived into the crispy clear water, had drinks and dinner and went to bed watching the beautiful full moon and prepared for a rather uneasy night with a few anchor alarms and swells from the great Atlantic Ocean, which was hidden just behind the Island.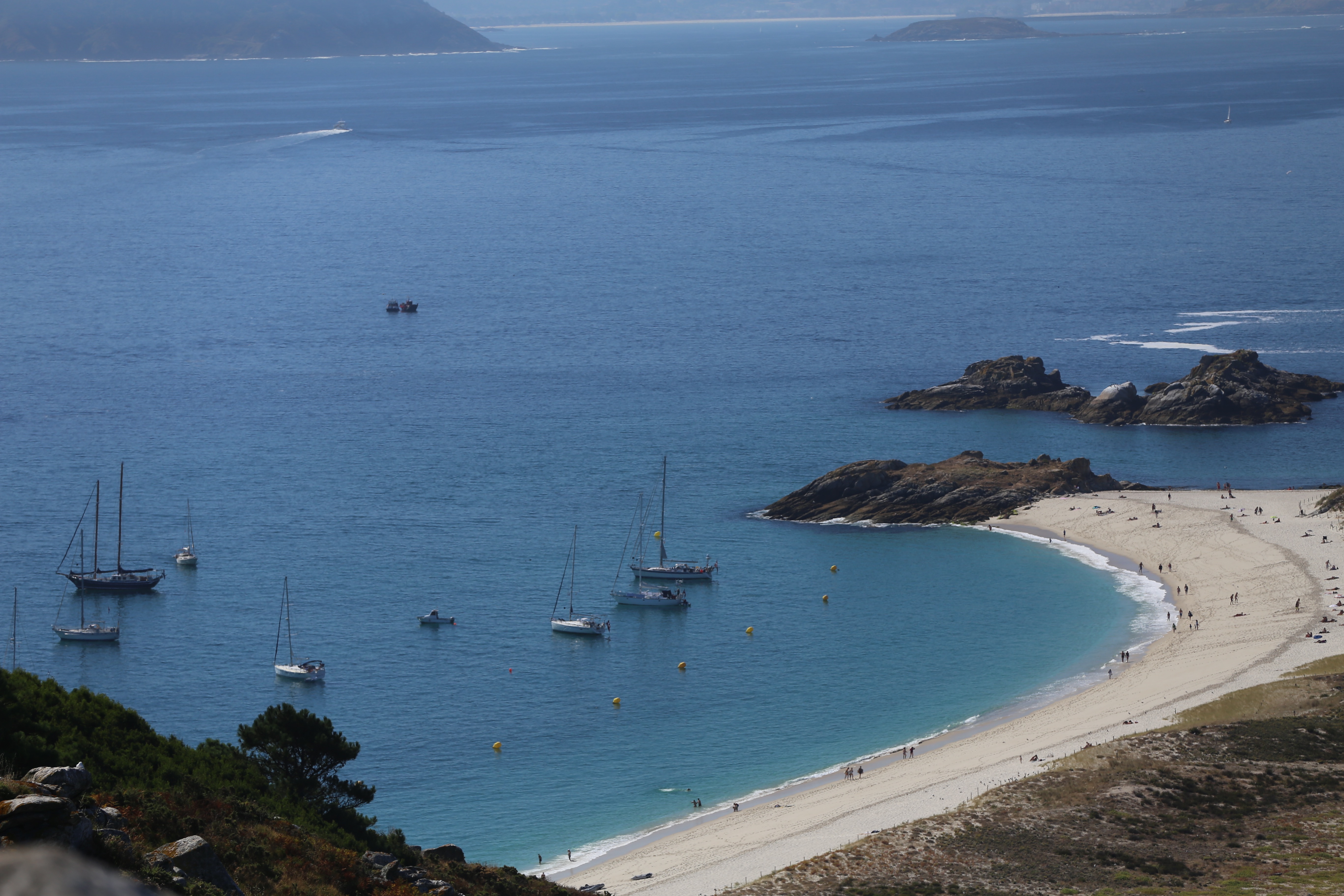 Morning broke and the sun brought us back to life and a wonderful sunrise around eight. We hiked around the Island and saw fantastic views and enjoyed the hiking. At least until I came into an unwilling combat with some Spanish youngsters, whom decided that they owned the track. We finished the day around five and wanted to swim before departure, but unfortunately the clear water was not so clear anymore and the weather was in a changing mood, so we sailed to Bayona.
Bayona is worth a stop – calm waters and beautiful location, but go to the Mote Real Marina on your starboard side or anchor in the bay. Much more attractive, as Puerto Deportive is half-finished, with no facilities.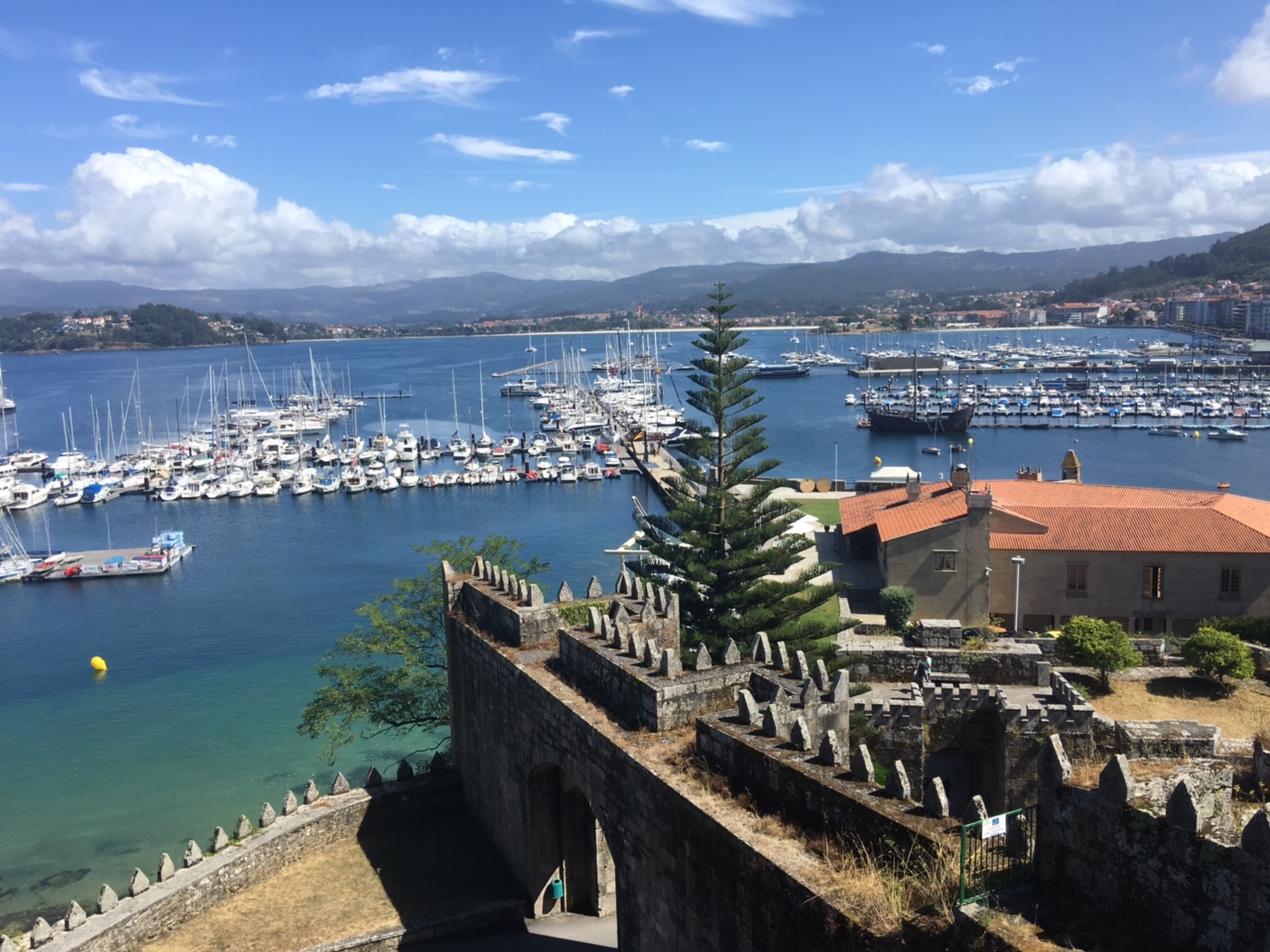 We were sightseeing the town. The old quarters with its narrow streets, the small tavernas and restaurant and the walk in the impressive Castle from 1695. All well worth a visit, before we had a coffee in the hotel in the castle enjoying the stunning views together with the Spanish tourists, as it is the high season for summer vacation. Suddenly time had slipped away and it was late. We hurried back for some farewell drinks with our sailing friends since Guernsey and Cowes. Margrethe with Gitte and Klaus and Barolo with Helle, Heine and Hans. You meet and say farewell, until we meet in another harbor or on the AIS – we all share the love for the sea, the adventure, the camaraderie, and our boats. Margrethe and Barolo are heading towards Gran Canary to cross the Atlantic in December and we will stay in Ria de Vigo until Tuesday morning to get Michaela safely onboard a flight to Copenhagen. So many farewells…
So after a few days of sight seeing and sun bathing in the the Bay of Bayona the alarm clock went of six o'clock on the 23rd, and off we went to Vigo airport to send Michaela on her flight to Copenhagen via Madrid. All worked well, despite it being difficult to say goodbye after so many great days. When we came back to North Star it was not quit the same most of the day.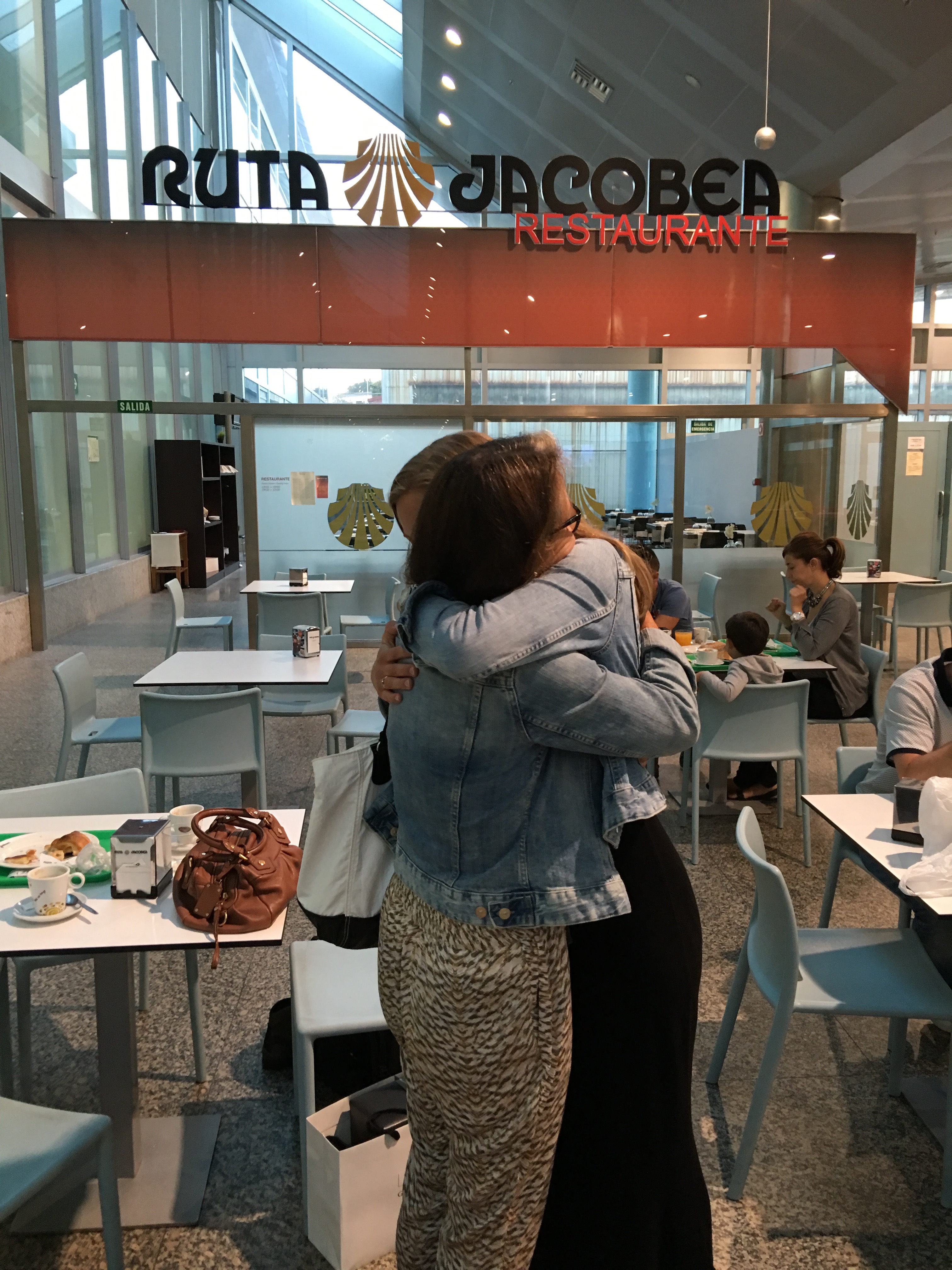 After fueling with cheap Spanish diesel, we sailed off to Porto hoping for great weather, but got thick fog and plenty of fishing pot floating around – it was a great sail wing on wing, but we had a sharp look out. We arrived into Porvoa de Varzim after 54 nm and Barolo was waiting for us and were very helpful arranging a berth and helping us in very heavy winds. Another nice day although it is strange to sail in fog. Everything goes very slow and noises disappear. Tomorrow we sail to Porto, just 12 nm to meet Benedicte and Carsten for a nice day.
We woke up to another dreadful morning, not the expectations you would have for Spanish summer, but as the thunder and rain disappeared by ten and we got going. Just a two hours sail to meet with Benedicte and Carsten in Marine Douro, which probably is the nicest marina we have visited since we left Copenhagen. A nice box, no swells and very quiet, with a friendly staff. Porto is fantastic, so after a drink, we walked to town to visit one of the many port wine houses on the south side of the Rio Dourne, which runs from deep in northern Spain and give room for many wine yards up through the valley. Cold winters and plenty of rain has given great ripe grapes for port since 1492. It closes at 18:00, so we were only in time for a taste at Churchill's, which have a nice free deal for sailors from the marina. Back to the marina by five Euro taxi, and then steak from the freezer, which broke two days ago – we were having a feast.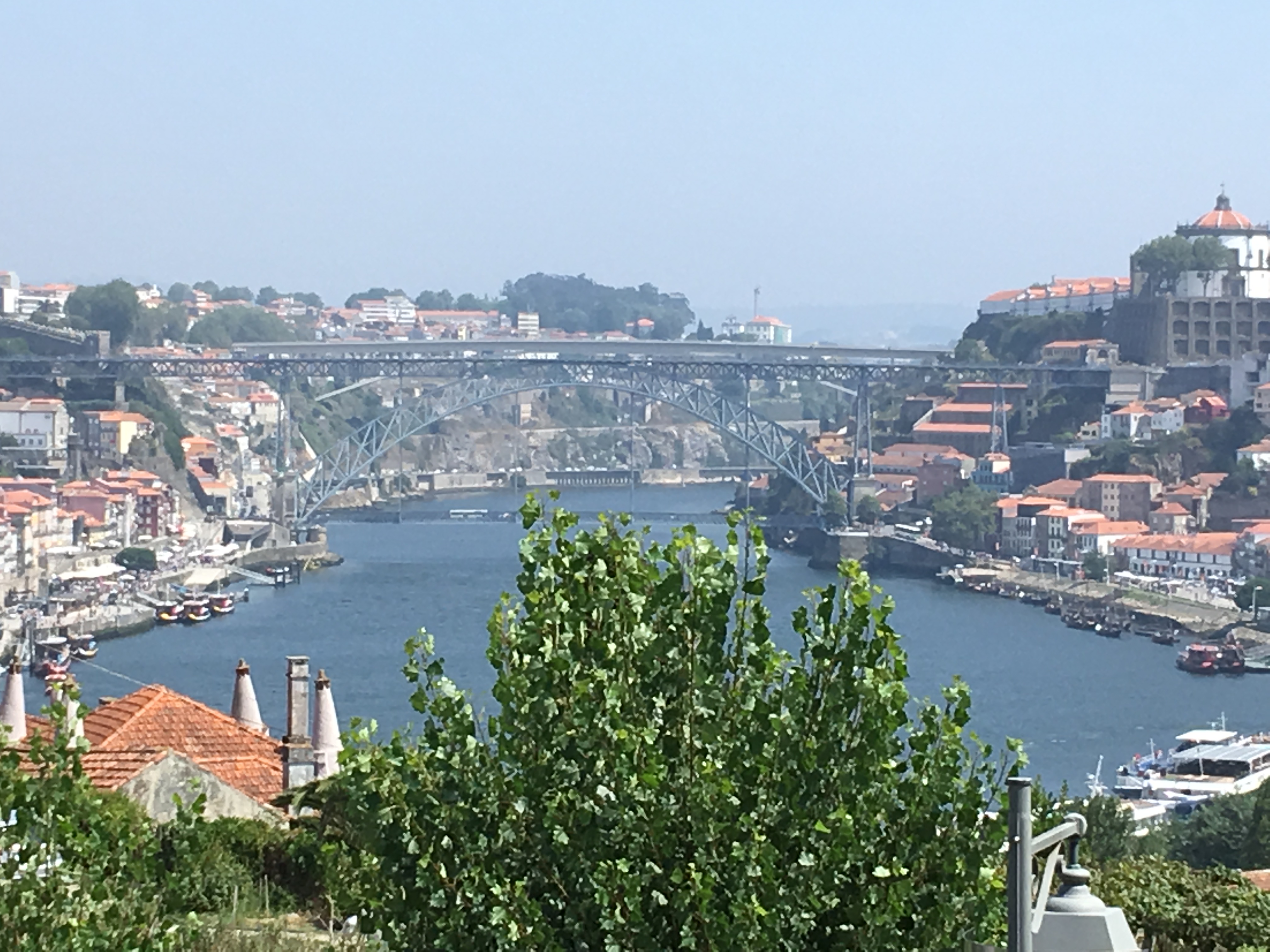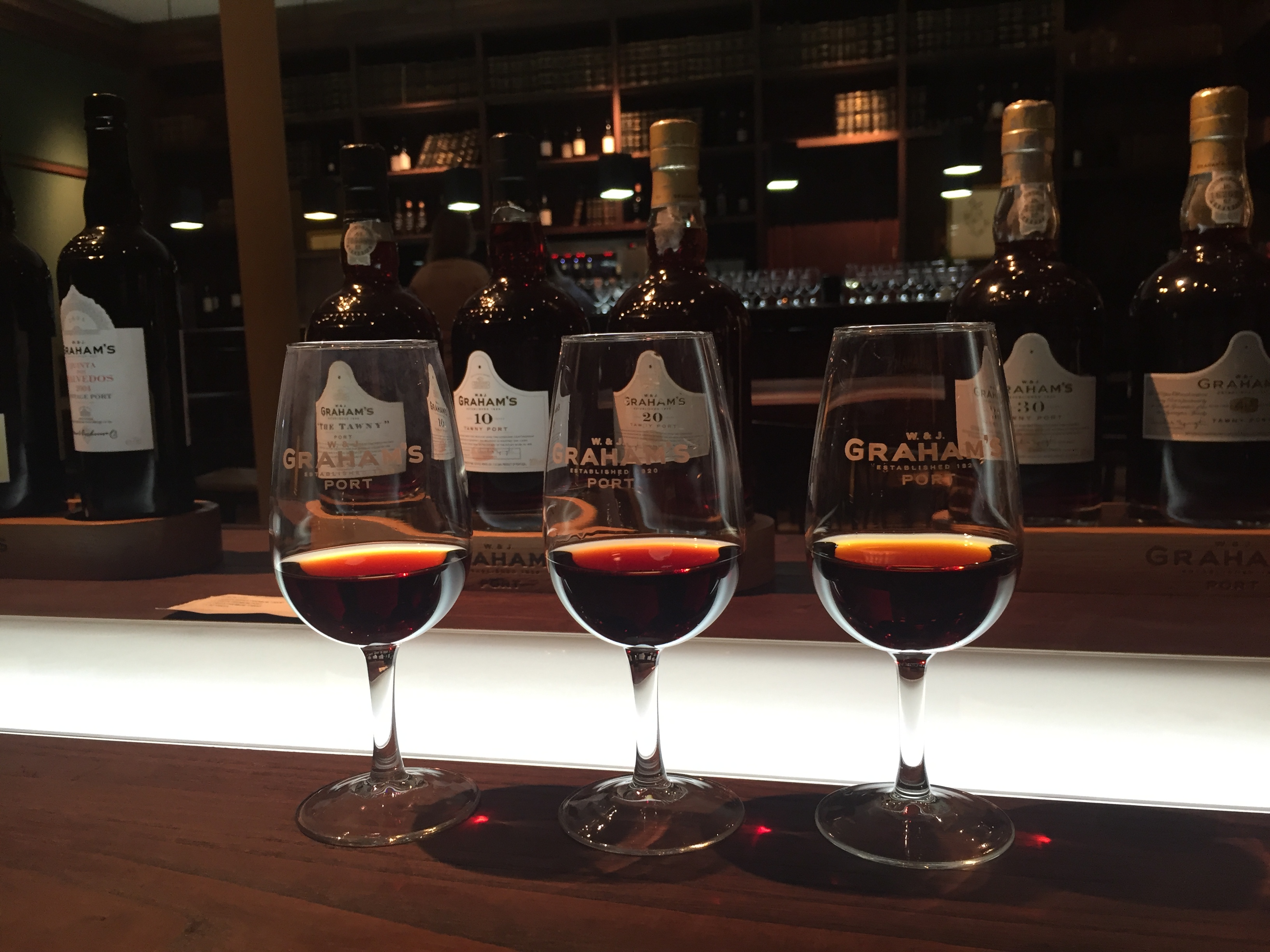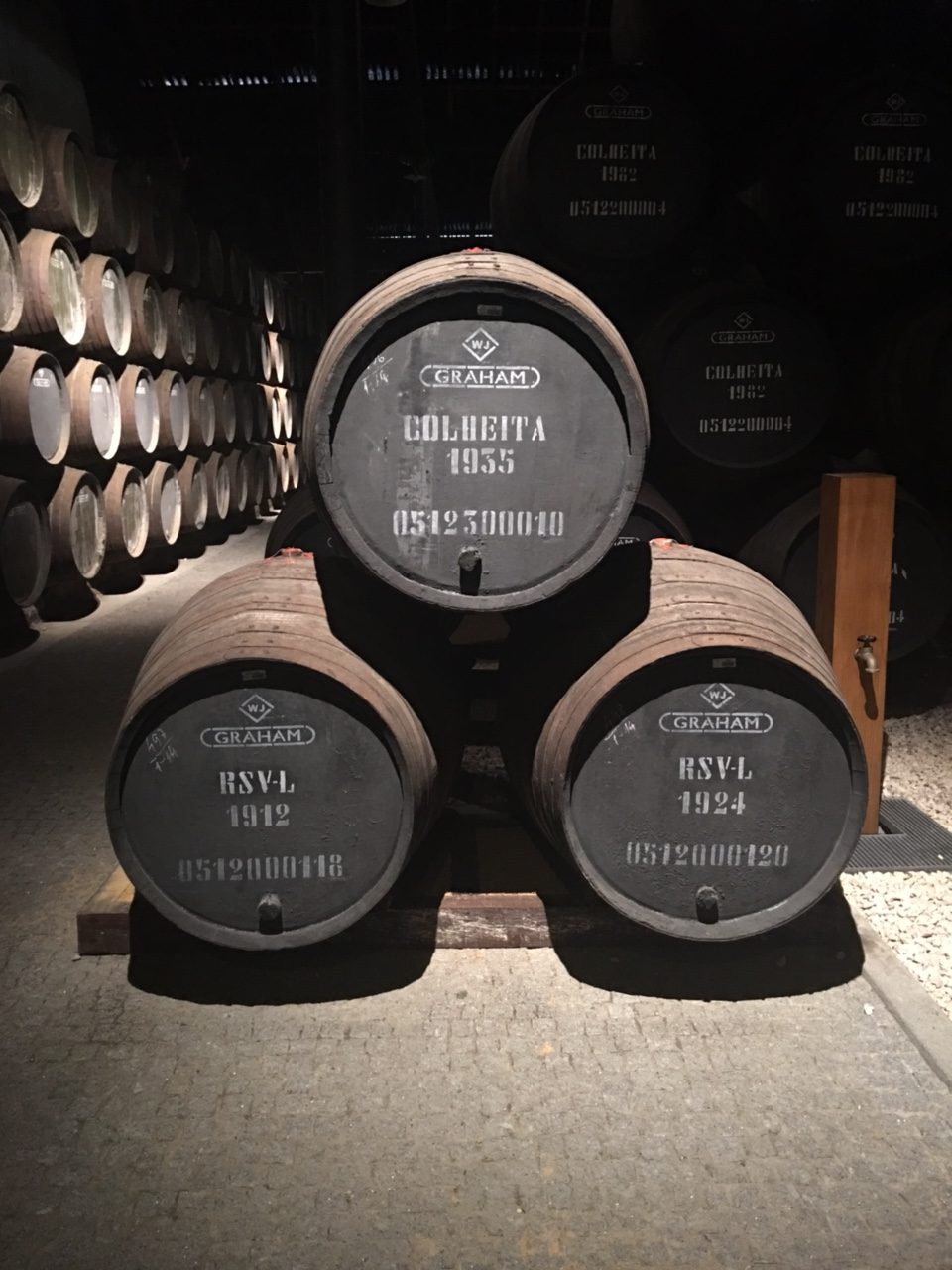 The day after was a wonderful sparkling day with little wind and sun. We visited Grahams, the largest and most inviting port wine house, which gave us a wonderful tour and great tasting. Especially Carsten enjoyed. Later, we went for a leisurely walk and saw some of the highlights in Porto. A very old city, the second largest in Portugal. But very poor and with a remarkable lack of great buildings or anything else. That said, it is cozy and very pleasant with many great fish restaurants. The first Kings of Portugal settled here from 1289. Henriques, a warrior king, who won independence for Portugal and beat the Turks. He is widely celebrated and you will find his statue and picture around the city. In the evening, we went for a walk along the northern riverbank, where there are many restaurants and a very pleasant environment.
Carsten and Benedicte left for southern Spain and then home to Denmark and we awaited Mikael, a great Swedish boat builder, who has done many of the upgrades on our boat during the spring. Our KVH satellite system has not worked since the first upstart and our Locomarine is also very tricky and unstable, so he brought spares and solutions.
On the 27th the plan was to depart, but the morning broke into fog and a funny feeling of not being quite ready to leave Porto. So we postponed departure and enjoyed the incoming sunshine and Porto. It was a great decision. We saw the monastery, the cathedral, the castle and walked in a much more pleasant part of the city, including lunch at Majestics. We ended at Taylors, sipping even more port win, before we headed home. All day we had been transported by Marie's new taxi friend, which started by taking us to the supermarket then moved us around town – nice and friendly advice.
After a for no reason terrible night, we only left Porto by 07:45 to go south. No fog and no wind, but 20 knots from N/NW after lunch was expected. We hadn't decided how far we would go today, either Foz 60 nm or Nazare 90 nm. It is difficult to sail in the night, as the many fishing buoys are dangerous for the rudder and propel. We decided for Foz, as the winds were building and we had some difficulty stabilising the sails in the downwind condition and 2-3 m waves.
Just before arrival, the Captain actually did listen to the Admirals advice and did decide to keep the main on a preventer and the cutter on a pole, both strapped down. It was maybe one knot slower, but stable and the slabbing went away. This is going to be our new setup in low down winds. Foz has a very easy entry and plenty of water + 4 meters in low water. It is a great overnight marina.
We left early with the first light at 06:30 with the course set for Cascais, 90 nm away. As usual at the Atlantic coast, swells in the morning, with very light or no winds – and the building after lunch towards 15 to 25 knots. It was finally a beautiful day and we made quick progress towards Capo Roca's impressive cliffs wavering 150 meters over the ocean surface, where the depths are a few kilometers. We passed through the underwater gorge at Nazarene, going down to 5 kilometers, which gives uneasy seas and reaches down to the impressive Roca. Shortly after we took down the sails as the wind died 1 nm south of the Roca, we reached an acceleration zone and the wind went quickly up to 35 knots. It became dark and the waves were building. Again our friends on Margrethe and Barolo were looking out for us and guided us outside the worst fishing buoys and we continued 5 nm south of Cascais, before turning back and in towards the shore, with protection for the waves and the wind. At times it was violent, but Marie and I are now a very solid team and North Star is taking well care of us – so it was really another good challenge. At 23.15, we were well anchored in the outskirts of the bay, in 10 meters of water and safely away from the dark shadows with anchor lights.
This was the start of our stay in 'little paradise' as Antonio, a good friend of ours in Lisbon, labels Portugal. Long lazy days, with sun and some refreshing wind, reversing between a day or two in the marina at 59 € a night and anchoring in the bay at no cost except the usage of generator and water maker, to provide us with plenty of water and electricity. North Star is keeping up well, although appearances are less stellar, than when we left Denmark, where Niels, Morten and Dennis had done a marvelous job at making here look her best. We probably need a larger engine for the dinghy, as Marie gets very wet in the swells, when we sail into them and not over, but life is very good.
While we were lazy and enjoying the Spanish summer, Marie is the perfect tourist guide taking us around in Cascais, Sintra and Lisbon. Cascais is very close to a Portuguese Rivera town with large houses and some history. It is recommended to see some of the old houses, the marine museum and the old town. It is a charming and very pleasant place and the people are very helpful. In Galicia, English was not spoken, but since we arrived in Portugal, nearly everyone we met have a fine command of English.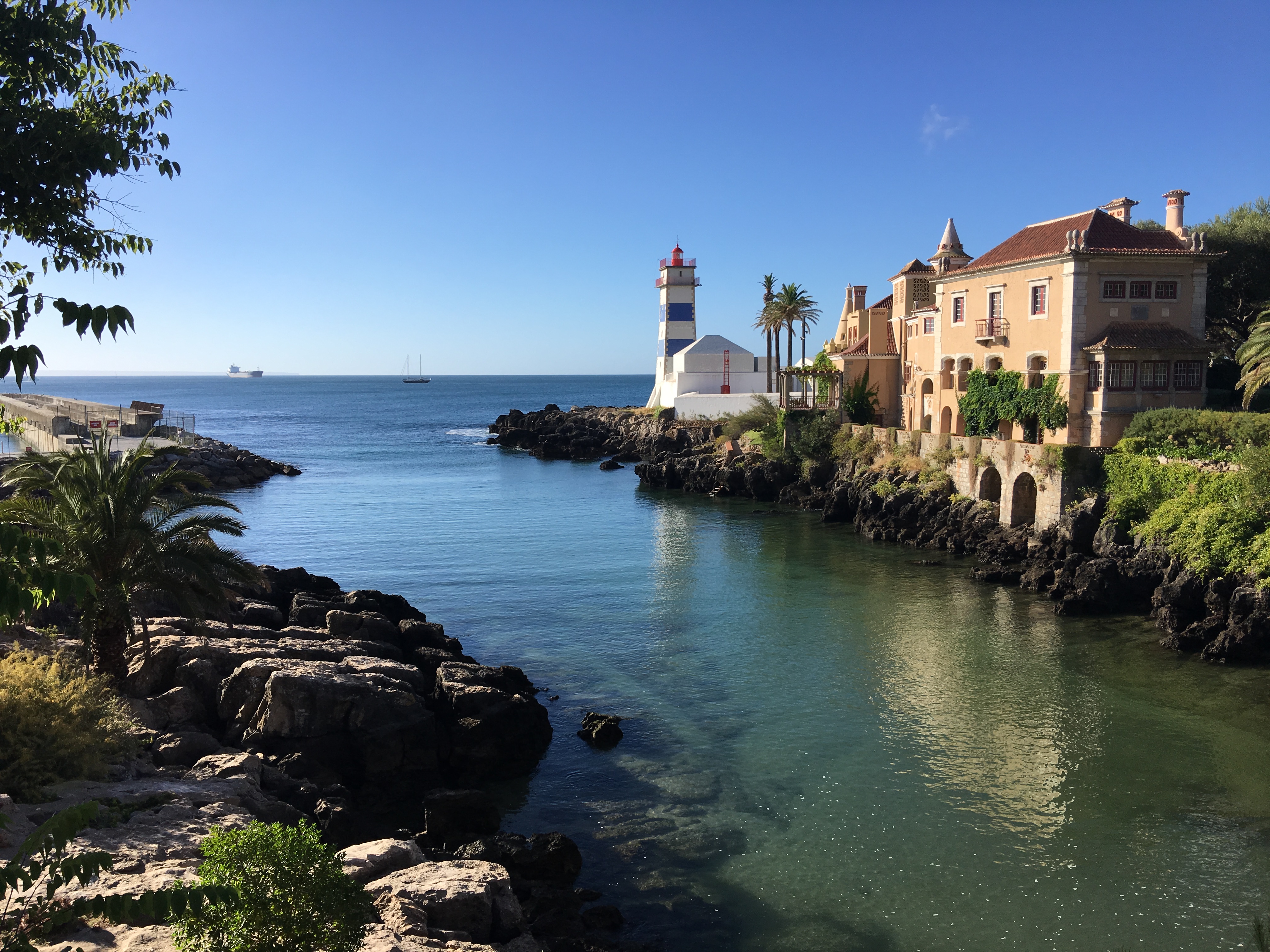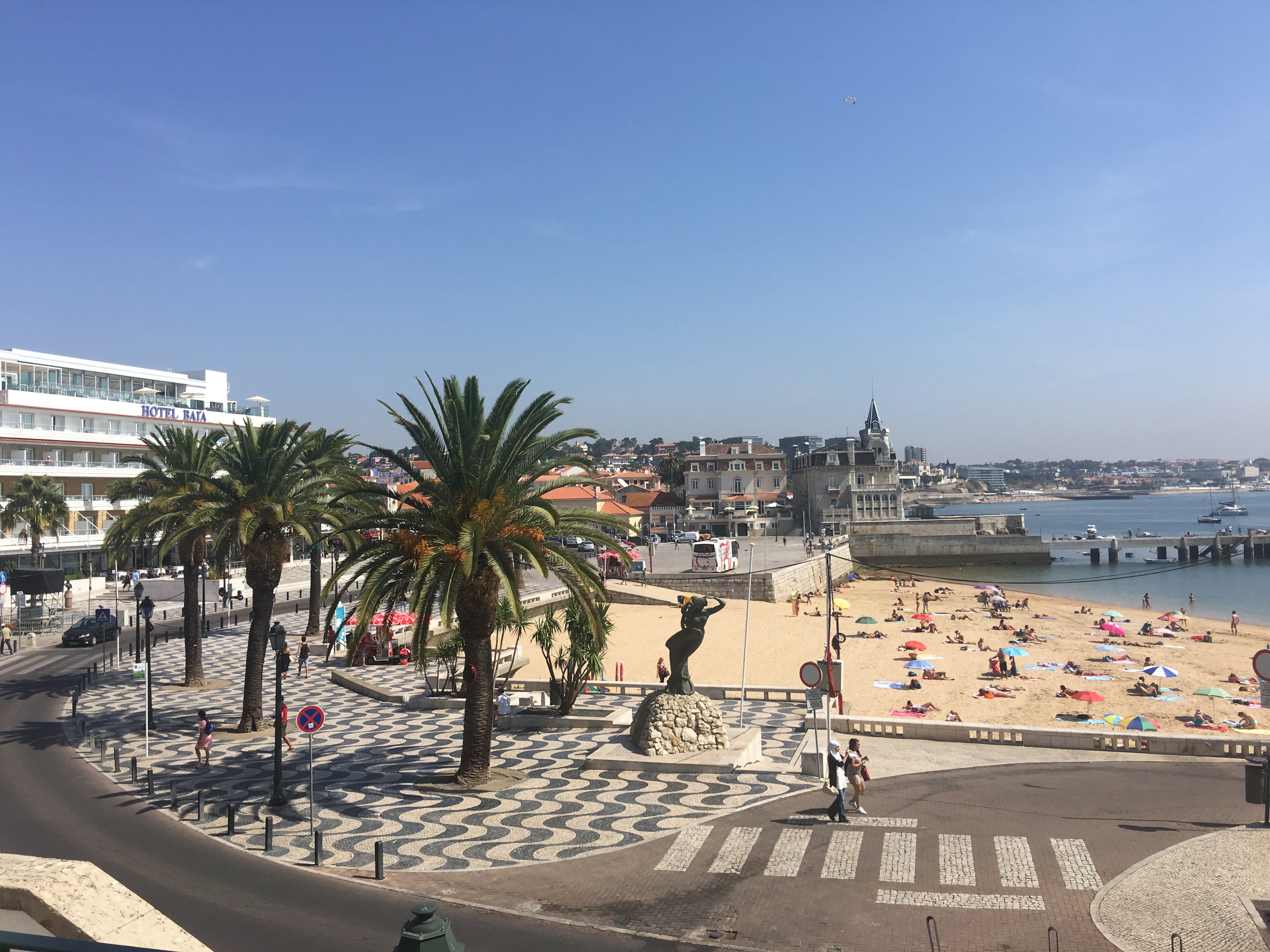 Antonio invited us on a great evening, first drinks on the aft deck of North Star, then drinks at a bar, and then a local restaurant 5 km outside Cascais, which prepared the best meal we have had since leaving Denmark.
Lisboa is wonderful, especially the Joronimus Monastery from around 1540 is a must see. Also the Arab quarters and the old tramps, are well worth a visit. But be aware of number 15, it is known for pocket thief – we were told, after the fact! Yes, they succeeded to steal my wallet from my back pack. No harm was done, except all the hassle and the part about feeling really stupid.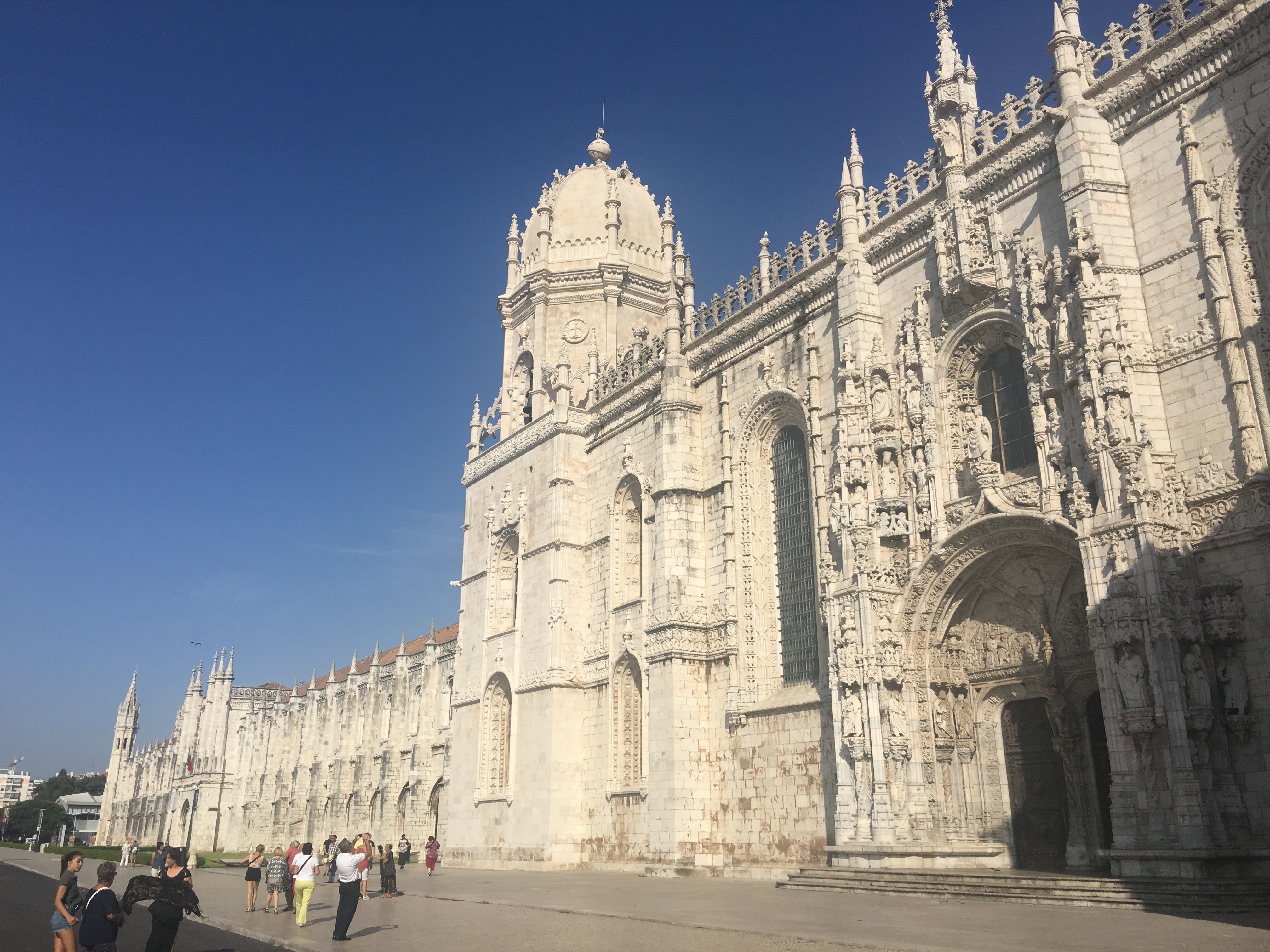 On our last day touring Lisboa, we reached a state of overload and we are now officially the best guides on European cathedrals, but with no need for seeing more of them.
We also spent a pleasant day in Sintra, taking the train up into the low mountains behind Lisboa into the playground of the kings and queens of Portugal. Sintra was where royalty spent June to October from 1440 until 1910, where the last King was assassinated and the republic arrived to Portugal. It is a beautiful place with museums and six or seven very large mansions and palaces – but even on a Monday, very touristic. Some say a must see, probably, but be aware of the hordes of buses….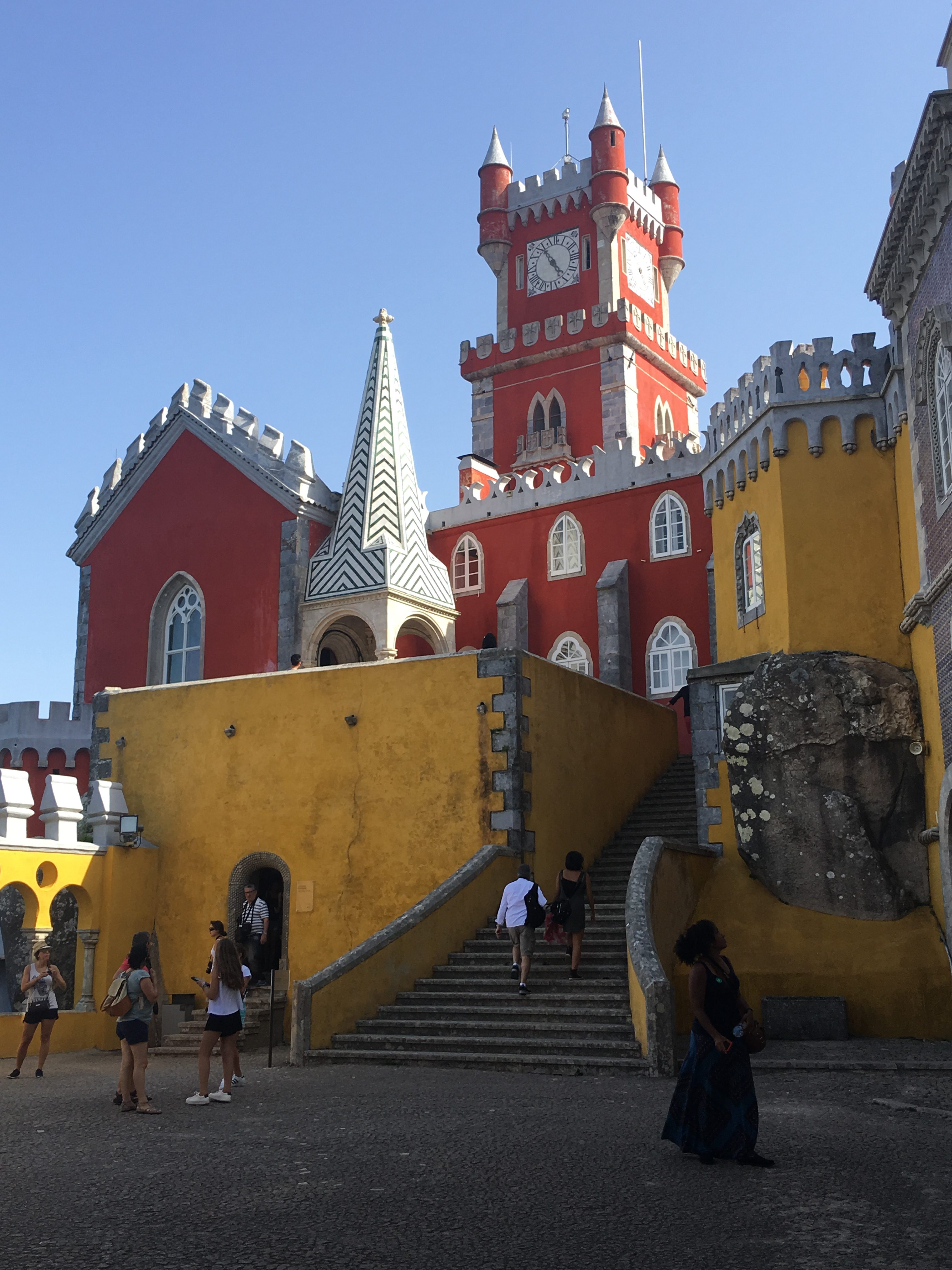 Lisboa and Cascais were fantastic and very enjoyable. It was the first time during our journey that we hit the warm southern summer, we had been looking forward to for so long. We have now been sailing since June 24th and tomorrow we are heading to Copenhagen to work, visit friends and see the kids. It feels weird to leave North Star behind, and we are looking forward to returning to this very different life compared to the one we had grown accustom to. It is very different, more social and leisurely of course, but also in so many ways a challenge, as the sea and the weather never give you a break and you can only relax for a short time, before it comes back to surprise you. As long as you work hard on being well prepared, listen to the advice you get along the way, maintain the boat, and sail conservatively, it will all be smooth sailing. But if not, we have seen many examples of boats, which have been less fortunate than us and North Star. We have also realised that we need to move to the other side of the rainbow to find the adventure and the challenge. The further we sail from good old civilised Europe, the greater the challenge and that is where we will be heading.
Ten days later, we left on a wonderful morning from Cascais and Marie immediately found her spot in front of the mast and enjoyed the solitude of being back on the boat. When she returned from Copenhagen, she expressed what we both felt – nice to be home again. And shortly after this statement we signed up for ARC 2017 via Cap Verde..
Just using the last light, we entered into Sines – a huge pier and behind there an industrial harbour and behind again a small fishing harbour and tucked away in a corner a small but very pleasant marina. Fuel and water were plentiful and a couple of restaurants were ten minutes away on bikes, but uphill. Sines is a nice little fishing town with a few tourist and a fortress.
At the first light we continued towards Sagres our next longer stop, hoping for great conditions to round Cape St. Vincent and spent a few days on anchor in the bay of Sagres. Be aware when rounding Cape St. Vincent – as with all these Capes the wind and currents act up. When coming into Sagres and turning on the engine again after a long sail the power was nearly gone. Fortunately, it is not a big challenge when you anchor in a bay, more an issue when entering a small and narrow harbour. Anyway, a few phone calls to Dennis and Erik set us off in the right direction. Especially Dennis from KKE, our local mechanic in Denmark, is extremely helpful and skilled. He is always willing to go that extra mile, which is so important if you are alone in strange waters somewhere in the world. Soon we changed all fuel filters, inspected the prop and a few other details and we were up and running again. Thanks for the help!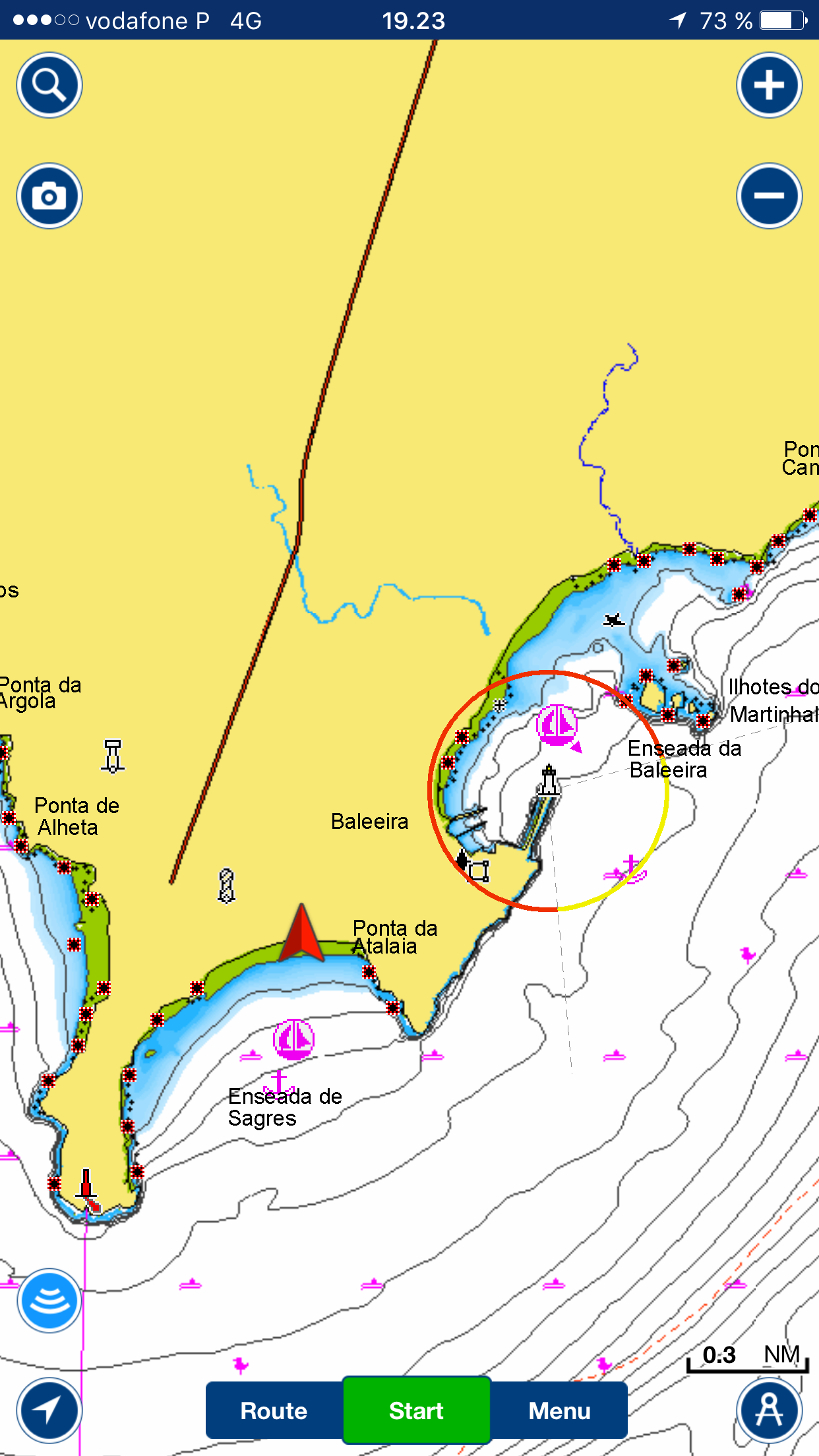 It is of course also a reminder of the sensitivity of the new common rail engines towards fuel supply – not a real problem in the Med if you are cautious, but when you arrive at more distant and isolated shores, fuel quality has a tendency to deter and then a rigorous regime of filtering needs to be used. We have chosen to install double Racor filter with a switch over function and a cleaning and polishing system, which allows us to move the fuel between our two tanks via other Racor filters. It is not 100% proof, but probably the best you can do.
Sagres was a highlight. Anchoring in a solemn bay in sun and wind during endless days. Followed by an early evening dinghy ride to the lonely fish restaurant at the beach, spending time watching the sun rise and set and swimming in the sea. No you are right – not much to do, and that is exactly the point. We were told that you had to check into the nearest harbor, but we did not and we were never contacted, before we checked into Lagos 30 nm east of Sagres.
After four days, the wind started to come back and we had to go to Lagos, as we were participating in a conference in Athens with YPO.