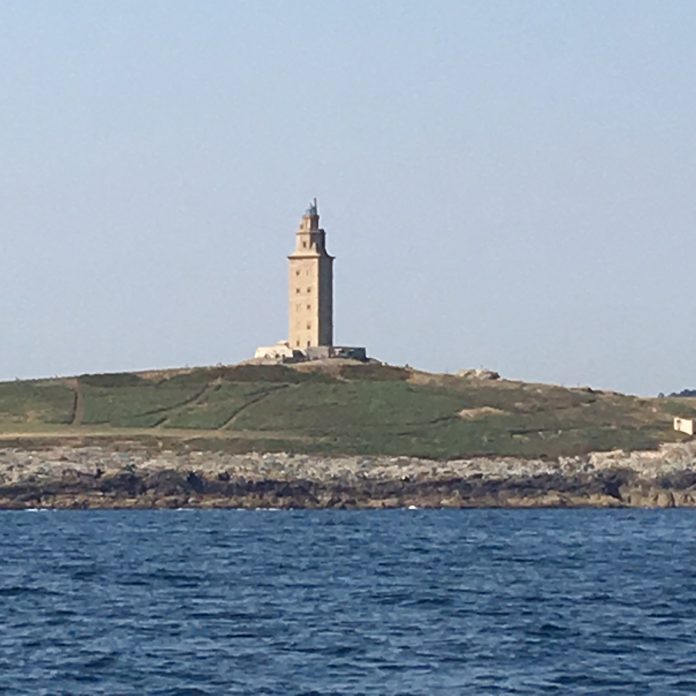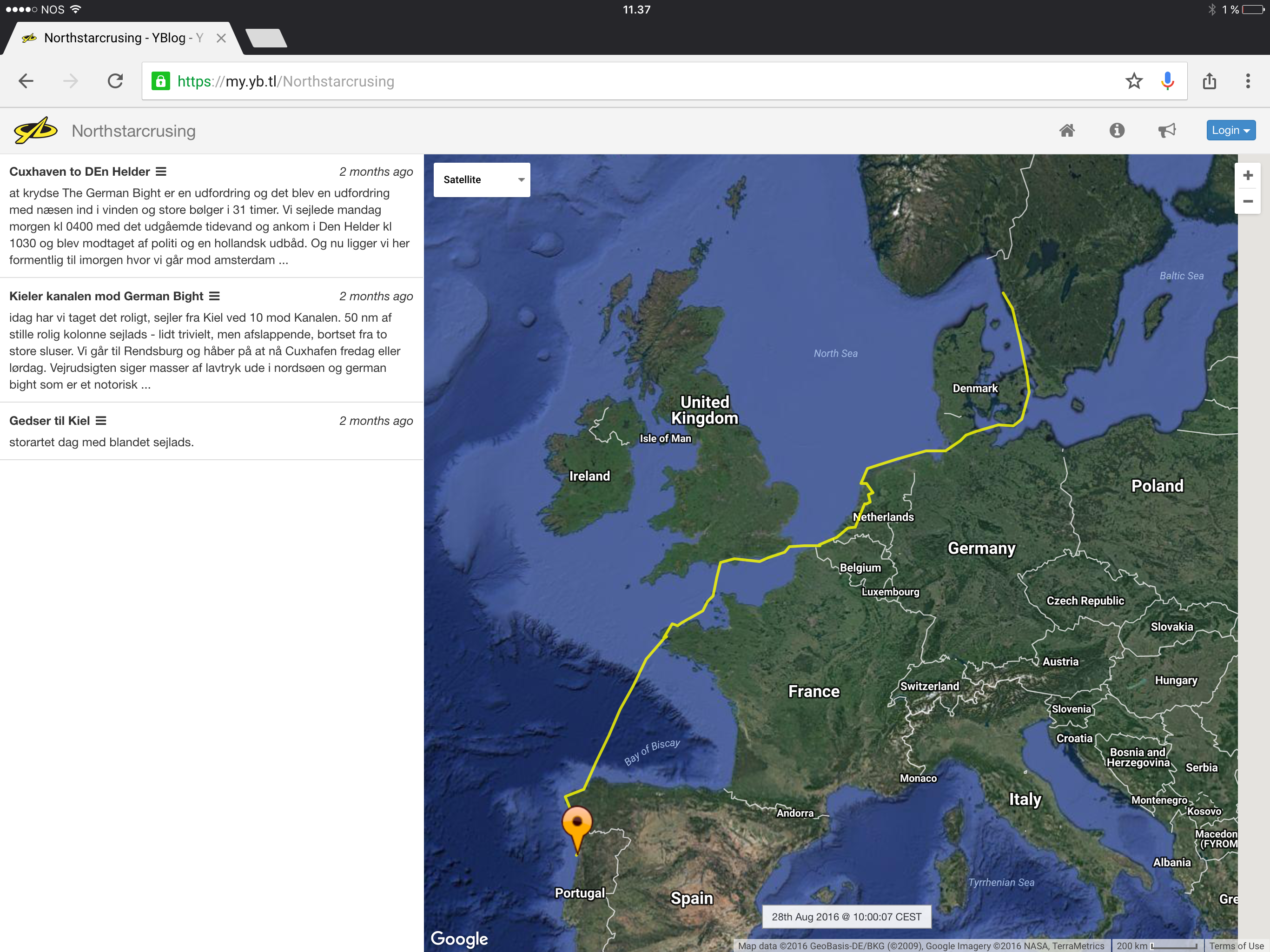 In a breeze we left Cowes around noon on the 25th towards Studland Bay, which turned out to be a great recommendation from Belinda and Colin. A beautiful sail until we reached the famous Needles, where the wind accelerated to +30 knots on the nose and the swells quickly became uncomfortable. But arriving in the bay with the last light, meeting a couple of other boats and slowly calming down, making dinner and enjoying the moonlight on the hook – not bad at all!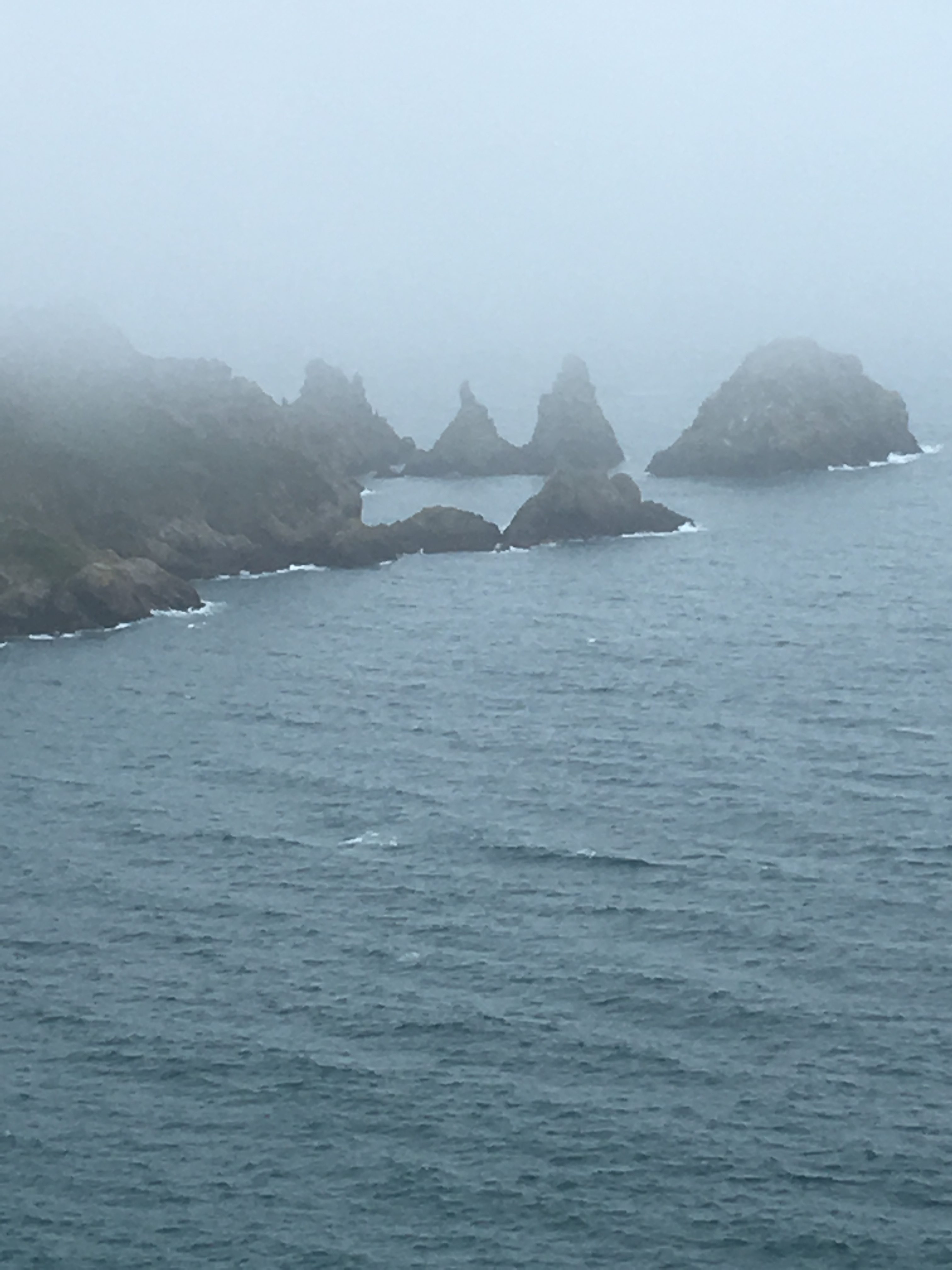 In the morning of the 26th, the course was set for Guernsey 110 nm away, and if you read about it in the Sailing Guide – it is a dangerous place you need to approach with care. But it was a fine day, with calm winds and we hit the different tidal streams reasonably – even though it was hard to keep course and speed when 5 knots of tide hit our port side for three hours. But we made it and passed Alderney, with an 8 knot tide with us and reflecting on the effects on the boat, if it had been against – and we arrived into Saint Peter Port at Guernsey early evening the 26th of July. There was a line up, but we were directed to a mooring in the outer harbor, as boat number four from the floating dock. Not bad, but tricky and demanding for any boat.
This was Marie's destination of choice and I enjoyed the chance to bunk diesel at 3 DKK – so we topped up North Star. But as you could expect with Marie, the next four days were very quickly filled up with tours of the island and visit to the many attractions. It is a beautiful island with plenty of rocky coast, as protection against the rough sea which surrounds. We did some hiking in the changing weather coming in on the back side of just another low in the English Channel. Of course the hiking had a purpose, we were walking in the rain and wind to get to five o'clock tea in a house in a beautiful small bay right at the ocean, Moulin Huet Bay Tearoom. We also saw Victor Hugo's house and of course gardens and museums. It was a pleasant stay, but the weather was very Atlantic and I believe the reason for Guernsey making their local "Blue Bottle Gin".
After four days, we sailed off towards Brest, with a short stop in Ropscoff where we arrived just a few hours ahead of an another gale, which kept us in Brest for way too long. A learn
ing was that if we had continued, we would have enjoyed a safe and comfortable journey – but at the time the forecast was conflicting, and we choose the safer option. That is the right choice and we would do it again, but five d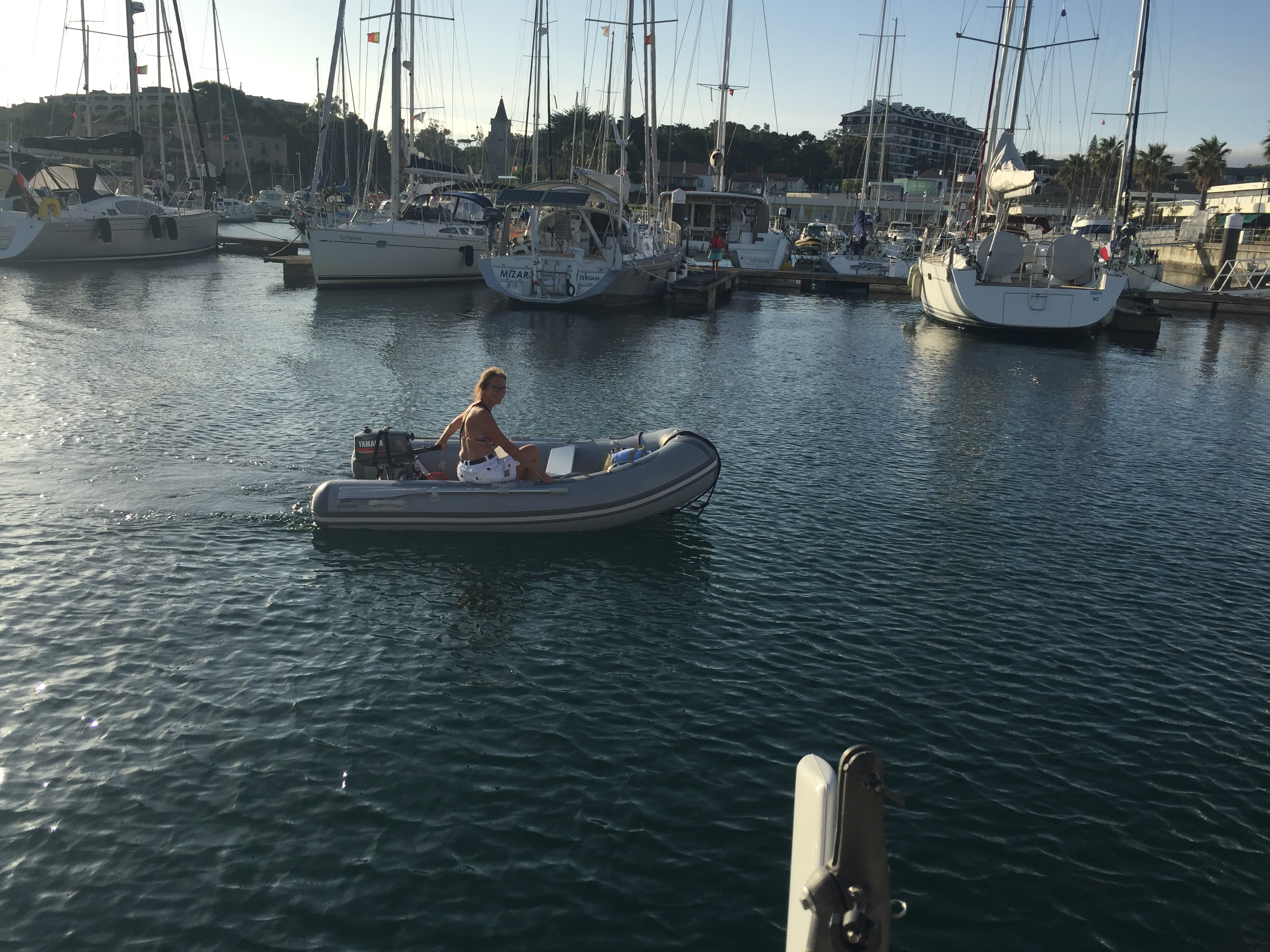 ays in Brest was a little long, because on the other side of the Bay of Biscay summer was waiting! Instead we were stuck in wind and rain, but spending a great time with our friends from S/Y Margrethe and S/Y Barolo. The latter is a Danish boat we met, as we were fuelling in Guernsey and it turned out we would, as so often seen before, join forces for the next six weeks.
We were reading the weather forecast several times a day and talked to the locals and among ourselves, looking for the window, which could take us to the other side. The last couple of days the weather improved. But because of our choice to cross from Brest and not from Falmouth, we were forced to cross through a wave zone with very conflicting waves, where the Atlantic bottom raised from 4000 meters to 100 meters and this was known for large swells after gales. As cautious and inexperienced sailors, we thought it prudent to wait. On Thursday morning, when the swell conditions for the first 90 nm miles was forecasted to be between 2-3 meters and not 4-7 meters, we left with the early tide. Barolo first, North Star second and Margrethe, right after.
On North Star, the crew was Michaela, Marie and I – an all family crew. Kristian had to leave because of the commitments at home and we missed him. This crossing over the Bay of Biscay is well known for being very challenging and for some, dangerous as you run across and risk being caught short on a lee shore, without many option to get away. So it is safe to say, the crew was focused on the task at hand and were very well prepared.
The first day was long as the swell was of higher than forecasted and the wind was not strong enough to keep us sailing through the waves. So we motor-sailed and Michaela was slightly hit by seasickness for some hours. But towards the end of the afternoon the wind increased and we sailed through the night and the swells became manageable. When the stars and moon came up it helped us see. It was a fantastic experience. When the morning came the wind disappeared again and the Biscay turned into a mirror. We used the motor as  the last forecast we received before we left Brest, advised gale force easterly to south westerly Saturday afternoon the last 50 nm before arriving Coruna. Our ability to receive forecasts underway, disappeared as our satellite connections broke down right afte leaving Brest. So we were in a hurry, hence the motoring through the mirror ocean.
Around 11 o'clock accordng to the logbook, Marie observed a Blue whale and its baby just 50 m ahead of us – a little too close, but they passed right in front of us. Shortly after, our depth gauge moved from indefinite depth – more than 1000 meters to 3-4 meter. Yes, we don't know, but it was probably a whale passing direct under us and then I turned around to look back and right behind us 4-5 of them were passing. A little scary – no quite a lot… but they are beautiful animals and to see them this close in their environment is nothing short of a dream come through.
As we pushed on and the boat settled into routines with watch, food and sleep, the wind came back and this time from North East. So with a little course correction to optimize our speed with the wind, we sailed through the night at speeds over 8 knots, even with slightly reefed sails. This trip, together with the German Bight trip has convinced Marie and I that North Star is more than capable to take care of us on our journey ahead. That is the one thing you do not want to doubt, when you are out here in the middle of the ocean, somewhat left to your survival efforts.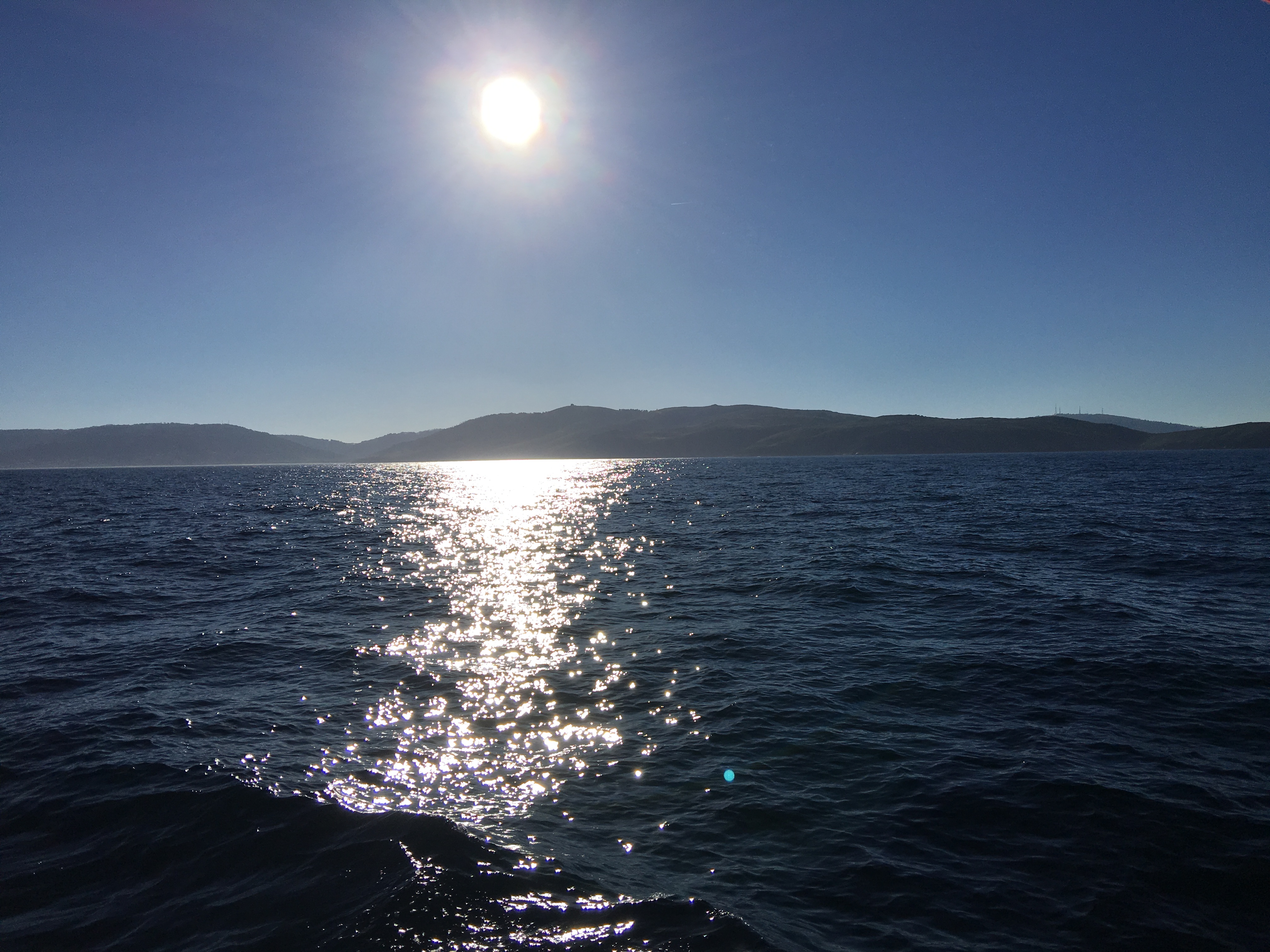 The second night I took the dog watch from four and had another fantastic night watching the Milky way, more shooting stars than ever before, and more importantly I spent most of this watch with our youngest daughter, Michaela.
Early morning, we did start to see the deadly coast of northern Spain, Coast a la Morte and we just reached into cover from the increasing easterly on our way into Coruna. We were tired and we were proud – we did it. As a family, missing Alexandra who had to work, we crossed the Bay of Biscay. I wrote on FB when the phones came to life, reflecting the proudness and sense of accomplishment:
Klokken er fem om morgenen og en fantastisk tur over Biscayen er ved at være slut. Vi er vel inde ved 0830 tiden. Det er stjerneklart med en del stjerneskud og vinden er mellem 20 og 25 knob. Båden skyder 8-9 knob gennem vandet og de første fyr er dukket frem af mørket. Det er magisk og en fantastisk fornemmelse af at nu er vi for alvor på vej og har bestået prøven gennem GermanBight og nu næsten Biscayen. At 10:15 on the 5th of August, we were just before the entrance and we stopped a wonderful sail and dropped into the still cold, but much warmer water and enjoyed that we finally had reached summer and Spain – we thought… Barolo and Margrethe came in later during the dy and both of them met the developing gale, but arrived safely.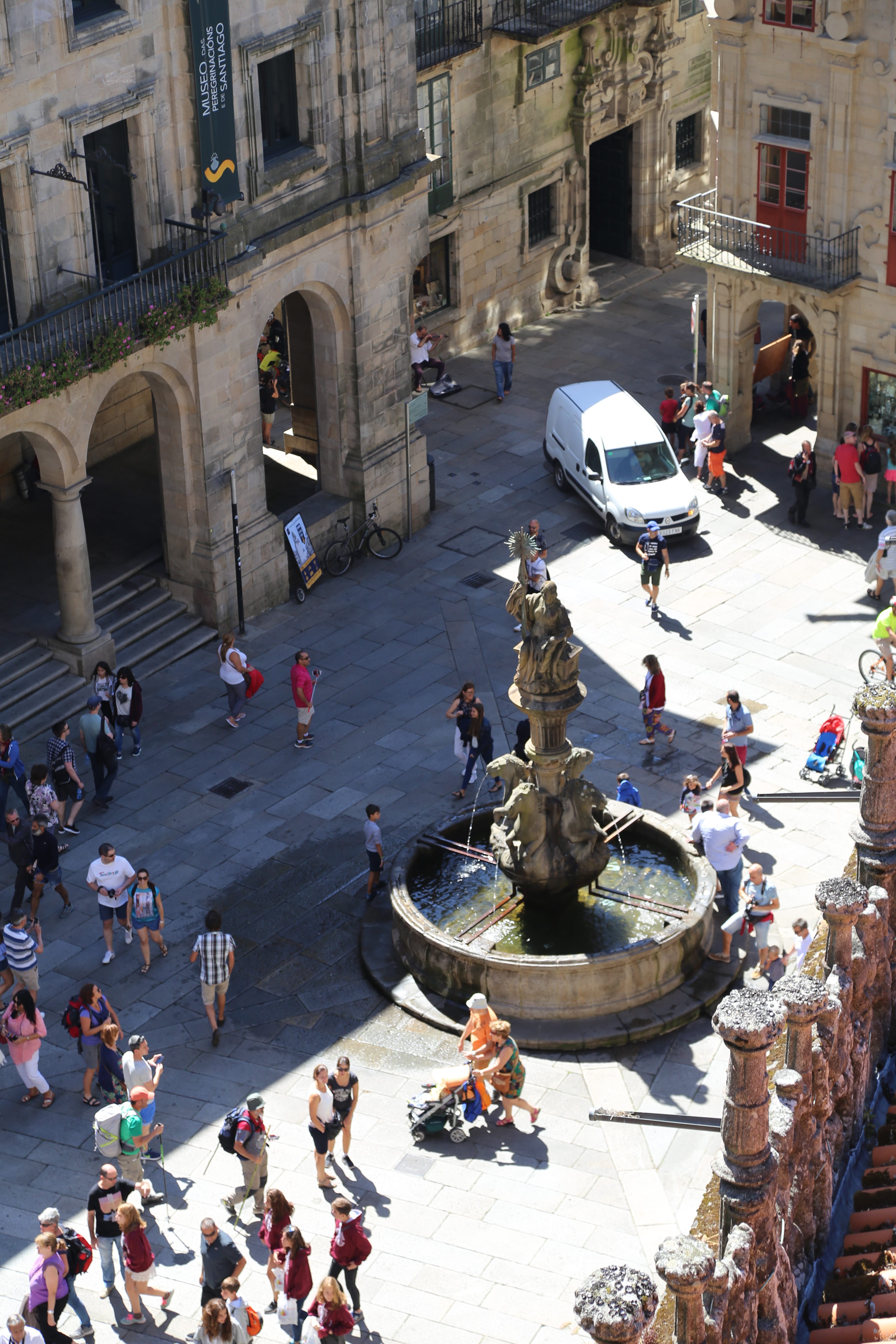 Coruna is exactly the kind of town you would like to meet when you first arrive to this northern part of a very diverse country. The marina is right in the city, very close to the large city square, which is in many ways the center of the town. You can eat tapas every night for endless nights and never need to come back to the same restaurant. For sailors there are superm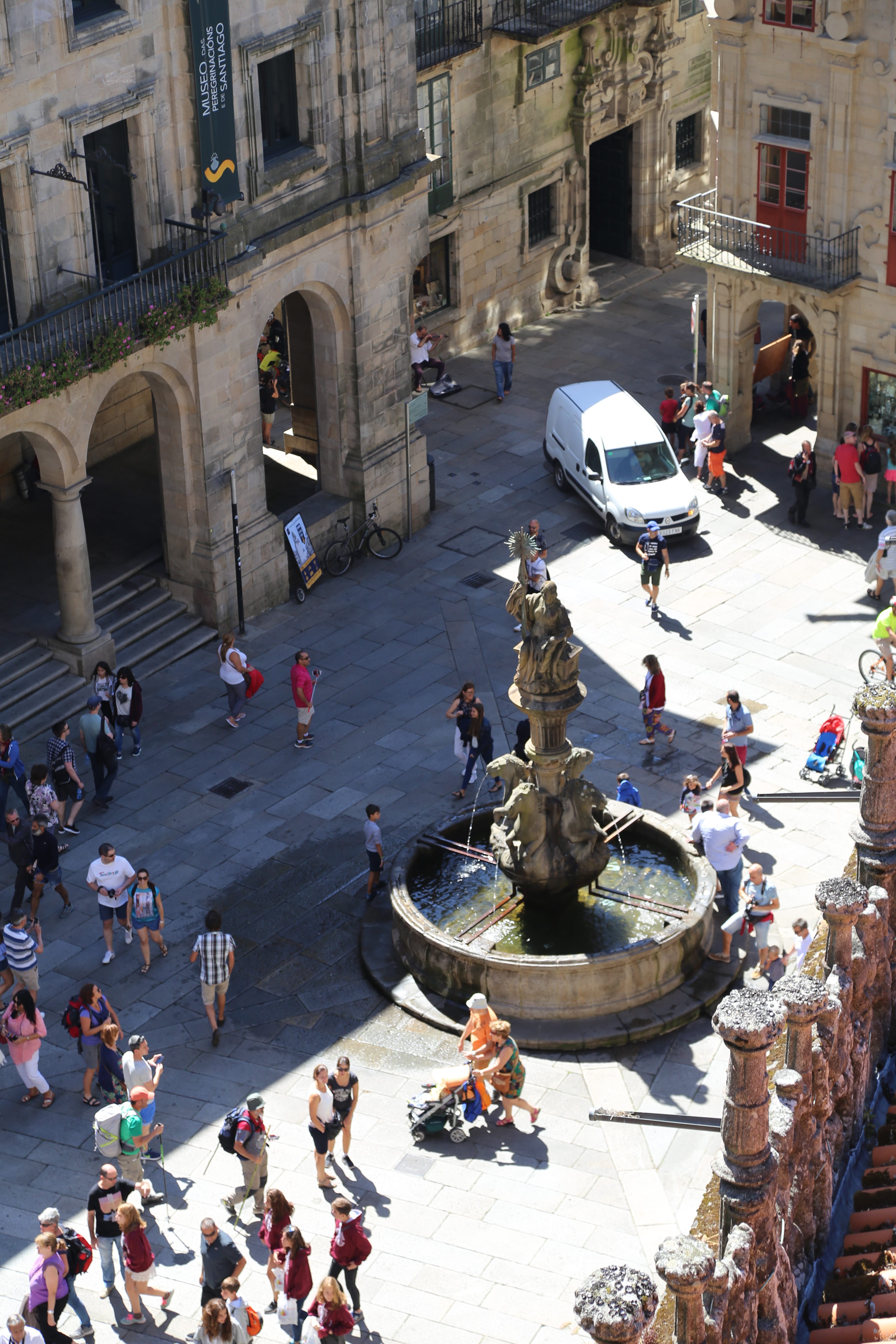 arkets close to the marina, data phone cards on the pedestrian street and a very helpful harbor master, who even spoke a little bit of English. We spent six days there and relaxed, travelled around and visited San Sebastian de Compostello.
This is a must. Only a one-hour train ride and you arrive right in the city enter and a short walk from the cathedral, which is breathtaking.